"Vroom-vroom, like a bike, Deinochaser!"

―ED theme lyric
Zyudenryu Deinochaser (獣電竜フタバイン, Jūdenryu Futabain) is the first of the thirteen Zyudenryu Guardians, following the Ten Great Zyudenryu.
Overview
Deinochaser is a light gray Deinonychus that was modified to fight the Deboth Army. Along with the other twelve Guardians, Deinochaser's body was destroyed by the Great Land Devil Gadoma 65 million years ago; while its physical form was reduced to a Secret Stone, its Kyoryu Spirit is held within the Zyudenchi. Brave 34: Resurrection! Bragigas' Arrival
Zyudenchi

11. Deinochaser (

フタバイン

): 3 yellow Zyudenchi (originally 1) holding the Kyoryu Spirit of the Deinonychus. Each of the primary Kyoryugers has one copy of this battery, which allows them to summon a Deino and Chase Zyudenryu pair that combine into the DeinoChaser motorcycle.
DeinoChaser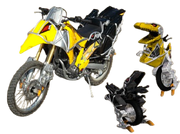 The DeinoChasers (ディノチェイサー, Dino Cheisā) are the Kyoryugers' motorcycles that form when 2 Deinonychus-themed Zyudenryu of the yellow Deinos Tribe (ディノス族, Dinosu Zoku) and the black Chase Tribe (チェイス族, Cheisu Zoku) are combined using the Deinochaser Zyudenchi.

Users
History
Secret Stone
The Secret Stone of Deinochaser was found by Tessai.
Behind the scenes
Etymology
All of the Zyudenryu/Zyudenchi sport a name that is a portmanteau between their effect/motif and their respective animal name, Deinochaser is a portmanteau of Deinonychus and Chase.
Notes
See Also
Appearances
References
Community content is available under
CC-BY-SA
unless otherwise noted.