(Adding categories)

(34 intermediate revisions by one other user not shown)
Line 1:
Line 1:
 

{{ArticleKyoryuger|movie}}

 

{{ArticleKyoryuger|movie}}

 
+

{{ViewerAdvisory|movie|blood and bloodshed}}

 

{{MovieInfo

 

{{MovieInfo

 

| season = Zyuden Sentai Kyoryuger

 

| season = Zyuden Sentai Kyoryuger

Line 10:
Line 11:
 

|previousspecial = Tokumei Sentai Go-Busters Returns vs. Dōbutsu Sentai Go-Busters

 

|previousspecial = Tokumei Sentai Go-Busters Returns vs. Dōbutsu Sentai Go-Busters

 

|nextspecial = Ninpu Sentai Hurricaneger: 10 YEARS AFTER}}

 

|nextspecial = Ninpu Sentai Hurricaneger: 10 YEARS AFTER}}

−

{{nihongo|'''''Zyuden Sentai Kyoryuger: Gaburincho of Music'''''|劇場版 獣電戦隊キョウリュウジャー|Gekijōban Jūden Sentai Kyōryūjā Gaburincho Obu Myūjikku}} is the Summer movie for ''[[Zyuden Sentai Kyoryuger]]''. It was released in Japanese theaters in August 3, 2013, double-billed with the film for ''{{KR|Kamen Rider Wizard}}'', ''{{KR|Kamen Rider Wizard in Magic Land}}''. <ref>{{cite web|url=http://www.toei.co.jp/movie/details/1201117_951.html|title=劇場版 仮面ライダーウィザード 獣電戦隊キョウリュウジャー (仮) | 東映[映画]|accessdate=2013-03-03}}</ref><ref>{{cite web|url=http://eiga.com/movie/78162/|title=劇場版 獣電戦隊キョウリュウジャー(仮題) : 作品情報 - 映画.com|accessdate=2013-03-03}}</ref> This film is the first musical Super Sentai has ever done.

+

{{nihongo|'''''Zyuden Sentai Kyoryuger: Gaburincho of Music'''''|劇場版 獣電戦隊キョウリュウジャー|Gekijōban Jūden Sentai Kyōryūjā Gaburincho Obu Myūjikku}} is the Summer movie for ''[[Zyuden Sentai Kyoryuger]]''. It was released in Japanese theaters in August 3, 2013, double-billed with the film for ''{{KR|Kamen Rider Wizard}}'', ''{{KR|Kamen Rider Wizard in Magic Land}}''. <ref>{{cite web|url=http://www.toei.co.jp/movie/details/1201117_951.html|title=劇場版 仮面ライダーウィザード 獣電戦隊キョウリュウジャー (仮) | 東映[映画]|accessdate=2013-03-03}}</ref><ref>{{cite web|url=http://eiga.com/movie/78162/|title=劇場版 獣電戦隊キョウリュウジャー(仮題) : 作品情報 - 映画.com|accessdate=2013-03-03}}</ref> This film is the first musical Super Sentai has ever done.

 
 
 

==Continuity and Placement==

 

==Continuity and Placement==

−

The movie was released between [[Brave 20: Unlucky! Tanabata's Windfall|Brave 20]] and [[Brave 21: Zoom! Plezuon's Back|Brave 21]]. The presence of [[Bunpachy]] places it after [[Brave 18: Caught! Kung-Fu Finishing Strike|Brave 18]], when the Kyoryugers gained [[Tessai]]'s [[Zyudenryu]], and before the events of [[Brave 23: Stand! Bakuretsu Kyoryuzin|Brave 23]] when the Kyoryugers defeated Deboss. At the latest it took place before [[Brave 29: Great Clash! Carnival Dances|Brave 29]], which featured references and flashbacks to the events of the movie.

+

The movie between [[Brave 20: Unlucky! Tanabata's Windfall|Brave 20]] and [[Brave 21: Zoom! Plezuon's Back|Brave 21]]. The presence of [[Bunpachy]] places it after [[Brave 18: Caught! Kung-Fu Finishing Strike|Brave 18]], when the Kyoryugers gained [[Tessai]]'s [[Zyudenryu]], and before the events of [[Brave 23: Stand! Bakuretsu Kyoryuzin|Brave 23]] when the Kyoryugers defeated Deboss. At the latest it place before [[Brave 29: Great Clash! Carnival Dances|Brave 29]], which featured references and flashbacks to the events of the movie.

 
 
 

== Synopsis ==

 

== Synopsis ==

Line 19:
Line 20:
 
 
 

== Plot ==

 

== Plot ==

−

The Kyoryugers attend the show by pop star Meeko, a girl from Daigo's past. But when a group of Zorima led by two girls raids the area, the Kyoryugers hold off the Dino Girls while Kyoryu Red gets Meeko to safety. However, as the latter she lost her pendant, Daigo and Meeko encounter a former Deboth Army member named D who gained the power to become Deathryuger who confirms the girl to be the one he is looking for. Even with the Kyoryugers gathered, Deathryuger overpowers them all before taking Meeko. The Kyoryugers learn from Torin that D seeks to revive the first Zyudenryu Tobaspino before they are alerted to Tobaspino's reawakening with their Zyudenryu unable t due to the. Though Ankydon and Bunpachy attempt to help, they end up being forcfully merged with Tobaspino to create Spinodai-Oh which proceeds to ready the Great Eradication Blast. As the others make their way to him, Utsusemimaru halts Deathryuger's preparations with Pteraigordon. When asked why they would, the Kyoryugers start before they transform and proceed to fight D's forces. After a motorcycle duel, a wounded Deathryuger retreats back into Tobaspino as Raiden Kyoryuzin is formed and manages to make a dent. However, after he infiltrates Spinodai-Oh, Daigo is beaten to a bloody pulp by D after he discards his Deathryuger helmet. However, seeing the pendant Daigo brought with him, Meeko sings 'Dino Soul' which restores Spinodai-Oh's mind as it acts to stop the Eradication Blast. With the Gaburu Armed On Gabutyra Zyudenchi, Kyoryu Red uses two Gabutyra Fangs to knock D out of Spinodai-Oh with the villain falling his death. Saved by Raiden Kyoryuzin, the others convince him not to give up as they join Meeko's singing to purify Spinodai-Oh as they destroy the Eradication Blast. Entrusted with the Tobaspino Zyudenchi, Meeko while the Kyoryugers get a backstage while Topaspino returns to its resting place.

+

The Kyoryugers attend the show by pop star Meeko, a girl from Daigo's past. But when a group of Zorima led by two girls raids the area, the Kyoryugers hold off the Dino Girls while Kyoryu Red gets Meeko to safety. However, as the latter she lost her pendant, Daigo and Meeko encounter a former Deboth Army member named D who gained the power to become Deathryuger who confirms the girl to be the one he is looking for. Even with the Kyoryugers gathered, Deathryuger overpowers them all before taking Meeko. The Kyoryugers learn from Torin that D seeks to revive the first Zyudenryu Tobaspino before they are alerted to Tobaspino's reawakening. Though Ankydon and Bunpachy attempt to help, they end up being forcfully merged with Tobaspino to create Spinodai-Oh which proceeds to ready the Great Eradication Blast. As the others make their way to him, Utsusemimaru halts Deathryuger's preparations with . When asked why they would, the Kyoryugers start before they transform and proceed to fight D's forces. After a motorcycle duel, a wounded Deathryuger retreats back into Tobaspino as Raiden Kyoryuzin is formed and manages to make a dent. However, after he infiltrates Spinodai-Oh, Daigo is beaten to a bloody pulp by D after he discards his Deathryuger helmet. However, seeing the pendant Daigo brought with him, Meeko sings 'Dino Soul' which restores Spinodai-Oh's mind as it acts to stop the Eradication Blast. With the Gaburu Armed On Gabutyra Zyudenchi, Kyoryu Red uses two Gabutyra Fangs to knock D out of Spinodai-Oh with the villain falling his death. Saved by Raiden Kyoryuzin, the others convince him not to give up as they join Meeko's singing to purify Spinodai-Oh as they destroy the Eradication Blast. Entrusted with the Tobaspino Zyudenchi, Meeko while the Kyoryugers get a backstage while Topaspino returns to its resting place.

 
 
 

==Characters==

 

==Characters==

Line 55:
Line 56:
 

**[[Lamunea]]

 

**[[Lamunea]]

 

**[[Ashy]]

 

**[[Ashy]]

−

*[[Deboss Army]]

+

*[[ Army]]

 

**[[Hundred-Faced High Priest Chaos]]

 

**[[Hundred-Faced High Priest Chaos]]

 

**[[Joyful Knight Candelilla]]

 

**[[Joyful Knight Candelilla]]

Line 65:
Line 66:
 
 
 

== Cast ==

 

== Cast ==

−

* [[Daigo Kiryu]]: {{nihongo|[[Ryo Ryusei]]|竜星 涼|Ryūsei Ryō}}

+

*[[Daigo Kiryu]]: {{nihongo|[[Ryo Ryusei]]|竜星 涼|Ryūsei Ryō}}

−

* [[Ian Yorkland]]: {{nihongo|[[Syuusuke Saito]]|斉藤 秀翼|Saitō Shūsuke}}

+

*[[Ian Yorkland]]: {{nihongo|[[Syuusuke Saito]]|斉藤 秀翼|Saitō Shūsuke}}

−

* [[Nobuharu Udo]]: {{nihongo|[[Yamato Kinjo]]|金城 大和|Kinjō Yamato}}

+

*[[Nobuharu Udo]]: {{nihongo|[[Yamato Kinjo]]|金城 大和|Kinjō Yamato}}

−

* [[Souji Rippukan]]: {{nihongo|[[Akihisa Shiono]]|塩野 瑛久|Shiono Akihisa}}

+

*[[Souji Rippukan]]: {{nihongo|[[Akihisa Shiono]]|塩野 瑛久|Shiono Akihisa}}

−

* [[Amy Yuuzuki]]: {{nihongo|[[Ayuri Konno]]|今野 鮎莉|Konno Ayuri}}

+

*[[Amy Yuuzuki]]: {{nihongo|[[Ayuri Konno]]|今野 鮎莉|Konno Ayuri}}

−

* [[Utsusemimaru]]: {{Nihongo|[[Atsushi Maruyama]]|丸山敦史|Māruyama Atsūshishi}}

+

*[[Utsusemimaru]]: {{Nihongo|[[Atsushi Maruyama]]|丸山敦史|Māruyama Atsūshishi}}

−

* [[Torin]] (Voice): {{nihongo|[[Toshiyuki Morikawa]]|森川 智之|Morikawa Toshiyuki}}

+

*[[Torin]] Voice: {{nihongo|[[Toshiyuki Morikawa]]|森川 智之|Morikawa Toshiyuki}}

−

* [[Hundred-Faced High Priest Chaos]] (Voice): {{nihongo|[[Takayuki Sugō]]|菅生 隆之|Sugō Takayuki}}

+

*[[-Faced High Priest Chaos]] Voice: {{nihongo|[[Takayuki Sugō]]|菅生 隆之|Sugō Takayuki}}

−

* [[Joyful Knight Candelilla]] (Voice): {{nihongo|[[Haruka Tomatsu]]|戸松 遥|Tomatsu Haruka}}

+

*[[Joyful Knight Candelilla]] Voice: {{nihongo|[[Haruka Tomatsu]]|戸松 遥|Tomatsu Haruka}}

−

* [[Raging Knight Dogold]] (Voice): {{nihongo|[[Satoshi Tsuruoka]]|鶴岡 聡|Tsuruoka Satoshi}}

+

*[[Raging Knight Dogold]] Voice: {{nihongo|[[Satoshi Tsuruoka]]|鶴岡 聡|Tsuruoka Satoshi}}

−

* [[Sorrowful Knight Aigaron]] (Voice): {{nihongo|[[Yū Mizushima]]|水島 裕|Mizushima Yū}}

+

*[[Sorrowful Knight Aigaron]] Voice: {{nihongo|[[Yū Mizushima]]|水島 裕|Mizushima Yū}}

−

* [[Funfilled Spy Luckyuro]] (Voice): {{nihongo|[[Ai Orikasa]]|折笠 愛|Orikasa Ai}}

+

*[[Funfilled Spy Luckyuro]] Voice: {{nihongo|[[Ai Orikasa]]|折笠 愛|Orikasa Ai}}

 
+

===Guest Cast===

−

* [[Mikoto Amano]]: {{nihongo|[[Shizuka Nakamura]]|中村静香|Nakamura Shizuka}}

 
−

* [[Lamunea]]: {{nihongo|[[Misaki Momose]]|桃瀬美咲|Momose Misaki}}

+

*[[]]: {{nihongo|[[ ]]|| }}

−

* [[Ashy]]: {{nihongo|[[Minami Tsukui]]|佃井皆美|Tsukui Minami}}

+

*[[]]: {{nihongo|[[ ]]|美| }}

 
+

*{{nihongo|[[Ashy]]|アーシー|Āshī}}: {{nihongo|[[Minami Tsukui]]|佃井皆美|Tsukui Minami}}

−

* [[Ferocious Knight D]] (Voice): {{Nihongo|[[Mamoru Miyano]]|宮野 真守|Miyano Mamoru}}

+

*[[Ferocious Knight D]] Voice: {{Nihongo|[[Mamoru Miyano]]|宮野 真守|Miyano Mamoru}}

 
+

*Dancing [[Zorima]]: {{nihongo|[[Hiroko Shiratori]]|白鳥紘子|Shiratori Hiroko}}, {{nihongo|[[Akihiro Ariga]]|有我彰広|Ariga Akihiro}}, {{nihongo|[[Kazuya Omino]]|小美濃一彌|Omino Kazuya}}, {{nihongo|[[Hayato Oomori]]|大森 隼|Ōmori Hayato}}, {{nihongo|[[Reoma Fukuno]]|福野麗生馬|Fukuno Reoma}}, {{nihongo|[[Masaki Takane]]|高根正樹|Takane Masaki}}, {{nihongo|[[Atsushi Yamauchi]]|山内惇史|Yamauchi Atsushi}}, {{nihongo|[[Takahiro Masutani]]|桝谷昴洸|Masutani Takahiro}}, {{nihongo|[[Kazuki Hamano]]|濵野和起|Hamano Kazuki}}

 
 
 

==Songs==

 

==Songs==

Line 136:
Line 139:
 

==Notes==

 

==Notes==

 

*First appearance of [[Ferocious Knight D]]/Deathryuger, [[Mikoto Amano]], [[Zyudenryu Tobaspino|Tobaspino]], and [[Kyosei Kamitsuki Gattai SpinoDaiOh|SpinoDaiOh]].

 

*First appearance of [[Ferocious Knight D]]/Deathryuger, [[Mikoto Amano]], [[Zyudenryu Tobaspino|Tobaspino]], and [[Kyosei Kamitsuki Gattai SpinoDaiOh|SpinoDaiOh]].

⚫
 
 

*As this movie premiered before ''[[Brave 21: Zoom! Plezuon's Back]], ''the closing credits contain the brief premiere of [[Plezuon]].

 

*As this movie premiered before ''[[Brave 21: Zoom! Plezuon's Back]], ''the closing credits contain the brief premiere of [[Plezuon]].

 
+

*During part of the song where D takes control of Ankydon and Bunpachy, a few cords from the [[Zyusouken]]'s song to summon [[Dragon Caesar]].

 
+

*[[Utsusemimaru]]'s instruction for [[Pteragordon]] to '''shut''' its '''goggles''' while fighting SpinoDaiOh is a reference to the [[Prism Flash|transformation]] of the [[Flashmen|eponymous heroes]] of ''[[Choushinsei Flashman]]''.

 
⚫
 
+

<gallery>

 
+

Male_Kyoryuger_and_Wizard_Cast_Dance.jpg|The male members of Kyoryuger & male cast of Wizard dancing.

 
+

Ayuri_Konno_with_female_Wizard_cast_dance.jpg|Amy & the female cast of Wizard dancing.

 
+

</gallery>

 
 
 

==External links==

 

==External links==

 

* [http://www.wizard-kyoryu.jp/story/index.html Official website]

 

* [http://www.wizard-kyoryu.jp/story/index.html Official website]

 
+
 
+

==See Also==

 
+

{{PR|The Rangers Rock!|Dino Super Charge}} (Spino Zord debut)

 
 
 

==References==

 

==References==

Line 146:
Line 158:
 

[[Category:Sentai Movies]]

 

[[Category:Sentai Movies]]

 

[[Category:Summer Movies]]

 

[[Category:Summer Movies]]

 
+

[[Category:Written by Riku Sanjo]]
---
Revision as of 01:42, 20 October 2018
| | |
| --- | --- |
| | WARNING: This movie contains scenes of blood and bloodshed. Viewer discretion is advised! |
Zyuden Sentai Kyoryuger: Gaburincho of Music (劇場版 獣電戦隊キョウリュウジャー ガブリンチョ・オブ・ミュージック Gekijōban Jūden Sentai Kyōryūjā Gaburincho Obu Myūjikku) is the Summer movie for Zyuden Sentai Kyoryuger. It was released in Japanese theaters in August 3, 2013, double-billed with the film for Kamen Rider Wizard
, Kamen Rider Wizard in Magic Land
. [1][2] This film is the first musical Super Sentai has ever done.released on DVD/Blu-Ray on December 06,2013.
Continuity and Placement
The movie takes place between Brave 20 and Brave 21, before the Kyoryugers obtain Plezuon. Also with Kyoryu Violet not appearing in this film. The presence of Bunpachy places it after Brave 18, when the Kyoryugers gained Tessai's Zyudenryu, and before the events of Brave 23 when the Kyoryugers defeated Deboss. At the latest, it takes place before Brave 29, which featured references and flashbacks to the events of the movie.
Synopsis
The Kyoryuger saves Mikoto Amano, nicknamed Meeko, from a horde of Zorima who invaded her concert venue. It turns out that Daigo once met Meeko in France. Before they can catch up, the ancient knight Deathryuger, aka D, appears and kidnaps her. D's goal is to use the secret legendary battery #00, to take control of the mysterious Tobaspino. The Kyoryugers go after "D" to rescue Meeko and prevent him from gaining control over the legendary Zyudenryu.
Plot
The Kyoryugers attend the show by pop star Meeko, a girl from Daigo's past. But when a group of Zorima led by two girls raids the area, the Kyoryugers hold off the Dino Girls while Kyoryu Red gets Meeko to safety. However, as the latter she lost her pendant, Daigo and Meeko encounter a former Deboth Army member named D who gained the power to become Deathryuger who confirms the girl to be the one he is looking for. Even with the Kyoryugers gathered, Deathryuger overpowers them all before taking Meeko. The Kyoryugers learn from Torin that D seeks to revive the first Zyudenryu Tobaspino before they are alerted to Tobaspino's reawakening. Though Ankydon and Bunpachy attempt to help, they end up being forcfully merged with Tobaspino to create Spinodai-Oh which proceeds to ready the Great Eradication Blast. As the others make their way to him, Utsusemimaru halts Deathryuger's preparations with Pteragordon. When asked why they would, the Kyoryugers start before they transform and proceed to fight D's forces. After a motorcycle duel, a wounded Deathryuger retreats back into Tobaspino as Raiden Kyoryuzin is formed and manages to make a dent. However, after he infiltrates Spinodai-Oh, Daigo is beaten to a bloody pulp by D after he discards his Deathryuger helmet. However, seeing the pendant Daigo brought with him, Meeko sings 'Dino Soul' which restores Spinodai-Oh's mind as it acts to stop the Eradication Blast. With the Gaburu Armed On Gabutyra Zyudenchi, Kyoryu Red uses two Gabutyra Fangs to knock D out of Spinodai-Oh with the villain falling his death. Saved by Raiden Kyoryuzin, the others convince him not to give up as they join Meeko's singing to purify Spinodai-Oh as they destroy the Eradication Blast. Entrusted with the Tobaspino Zyudenchi, Meeko while the Kyoryugers get a backstage while Topaspino returns to its resting place.
Characters
Allies
Villains
Cast
Guest Cast
Songs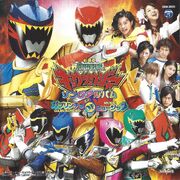 Gaburincho of Music is a musical and features various songs by the cast as well as other pieces from the series' soundtrack. A "song album"[3] film theme song single[4] was released on July 31, 2013.
Theme song
Insert songs
Notes
External links
See Also
References
Community content is available under
CC-BY-SA
unless otherwise noted.