Zoku Green (ゾクグリーン, Zokugurīn): A Gorotsuki who hung out at the bar on the Baribarian as one of the prominent members within the satellite. He and three of his partners were utilized by SS Pamaan to become the Boso Sentai Zokuranger and fought with Green Racer. Originally, he was the bartender of BB Saloon. He first wielded an axe, and later fought with a musket-like cannon.
After SS Pamaan/ZokuRed was killed, the others continued helping the Bowzock out the best they could. At the finale, they are shown to be part of their own studio.
Notes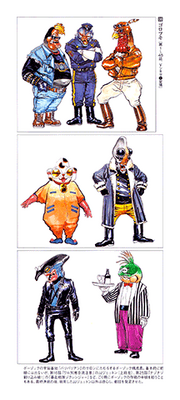 Behind the scenes
His motif is that of a frog and a soldier.
See also
Community content is available under
CC-BY-SA
unless otherwise noted.