"It can't be! That's impossible"

―Zodomas when his tentacles were destroyed and his final words before his first death.
Zodomas (ゾドマス, Zodomasu) is one of Space Empire Zangyack's Action Commanders.
Biography
He is a master swordsman who believes in winning by any means, having Insarn modify his body with bladed tendrils in response to learning about Gokai Blue's two-blade fighting style. He's also a being who uses hypocrisy to his advantage, fooling Gokai Blue that he was a fair fighter (by saying that 5-on-1 wasn't fair) as so Zodomas could use Sugormins to pin him down. After being defeated by Gokai Blue's five-blade style Blue Slash attack, summoning manifestations of Gosei Blue, Shinken Blue, MagiBlue, HurricaneBlue and GingaBlue, an enlarged Zodomas is destroyed by Magi GokaiOh.
Kamen Rider × Super Sentai: Super Hero Taisen
However, he is revived in Kamen Rider × Super Sentai: Super Hero Taisen
as a member of the Shocker-Zangyack Alliance
. He is seen being pushed back by Red Buster in the charge and by Kamen Rider Den-O Sword Form
in the first aerial attack scene. He is also seen being ganged up by DenziRed and Red Flash in the second aerial scene.
Profile
Zodomas was originally an alien with unrivaled muscle control and superhuman swordsmanship. Insarn enhanced him with an ability to generate afterimages from slashes and an exoskeleton equipped with bladed tendrils.
He was in charge of "Operation Earth-Destroying Swordsmanship" (

剣術地球破壊作戦

Kenjutsu Chikyū Hakai Sakusen

).
Height - 199cm (Giant Form - 49.8m)
Weight - 149kg (Giant Form - 372.5t)
Behind the Scenes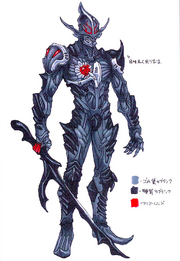 Zodomas is voiced by Hideo Ishikawa (

石川 英郎

Ishikawa Hideo

), returning to the Super Sentai series ten years after his previous role as Duke Org Propla.
He was designed by Yasushi Nirasawa.
His motif is a fencer. He resembles a silver chimaera but Yasushi Nirasawa has stated that he has no specific marine life motif.
His name is derived from "swordmaster".
Notes
Unlike most monsters, his normal-size defeat results in him falling to the ground instead of exploding. He does, however, explode upon his giant sized death
He is the first Action Commander to use a Sugormin-combined hovercraft.
Appearances
External links
See Also
Community content is available under
CC-BY-SA
unless otherwise noted.