"I just-!"

―Zan-KT0's final words before his initial defeat.
"Re-activation!"

―Zan-KT0 after being enlarged.
"I'm not done yet!"

―Zan-KTO of the Shot reacting to GoZyuJin and his final words before his death.
Zan-KT0 of the Shot (ショットのザンKT0, Shotto no Zan Kē Tī Zero):
History
During the events of, Tensou Sentai Goseiger vs. Shinkenger: Epic on Ginmaku, Zan-KTO was deployed to destroy the Negakure Temple to obtain the power source that Metal Alice had detected within it. However, he was defeated by the time-travelling Gokaigers using the Timeranger Keys before combining the Gokai Legendary Dream and the Gokai Galleon Buster's Rising Strike to defeat him. He was enlarged by Metal Alice who was amazed by the Gokaigers and wished to learn more about them but GokaiSilver scrapped him with GoZyuJin's GoZyu Triple Drill Dream, using the "time's up" catchphrase of the Timerangers. His destruction led to the upgrades used in the latter creation of his more powerful successor, Zan-KT of the Shield.
Biography
to be added
Profile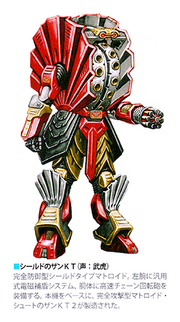 Notes
References
External links
See Also
Community content is available under
CC-BY-SA
unless otherwise noted.