"So, it's finally my turn. (.....) Leave it to me."

―Zaggai's first words
"Curse you all! You'll pay for this!"

―Zaggai's first words being enlarged
Zaggai (ザッガイ, Zaggai) is one of Zangyack's Action Commanders.
Biography
An anglerfish like Action Commander who shoots the Vibrational Destruction Beam (振壊ビーム, Shinkai Bīmu) sent to retrieve a deadly metal called Puwazole (プワゾール, Puwazōru) that fell to the Earth for the Space Empire Zangyack. However, Zaggai ends up being a victim of circumstance as the Gokaigers defeat him for "kidnapping" Ahim and then destroy him with Shinken Gokaioh. Ep. 13: Tell Me the Way
It is revealed in his cameo in the next episode, that during his mission, Zaggai was reprimanded by Kyousuke Jinnai, the former Red Racer, for crossing the road on a red signal. Ep. 14: Now More Road Safety
Profile
Zaggai was originally an alien with a luminescent organ that could be used as a radar. Insarn enhanced him with a Puwazole detector and a vibrational destruction beam.
He was in charge of "Operation Puwazole Recovery" (

プワゾール回収作戦

Puwazōru Kaishū Sakusen

).
Height - 200cm (Giant Form - 50.0m)
Weight - 153kg (Giant Form - 382.5t)
Behind the Scenes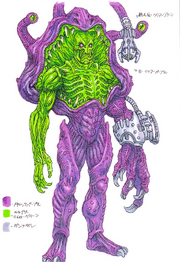 Zaggai is voiced by Keiichi Sonobe (

園部 啓一

Sonobe Keiichi

).
He was designed by Yasushi Nirasawa.
His motif is an anglerfish.
His name is derived from sakkai (

殺界,

literally "killing world") which is a term for bad fortune according to Rokusei Senjutsu astrology.
Notes
Zaggai is the first Action Commander to appear more than once. Deratsueigar doesn't count, as he is an Imperial Guard.
He is also the first Action Commander to be destroyed by Shinken Gokaioh, not counting Deratsueigar for the same reason as above.

He is one of many Action Commanders not adapted for Power Rangers Super Megaforce due to Nickelodeon's 20 episode limit.
Appearances
External links
Community content is available under
CC-BY-SA
unless otherwise noted.