"And we're here for one reason and one reason only."
―Psycho Yellow's first words.[src]
"Psycho Yellow!"
―Psycho Yellow's roll call.[src]
"Dargh!"
―Psycho Yellow's last words before her demise.[src]
Psycho Yellow is the Yellow Ranger of the Psycho Rangers, later taking the name Yellow. She was also referred to as the Yellow Psycho Ranger - a variation on her in-show label.
History
This article contains content in reference to the main TV series, as well as supplemental material, such as the comics. A sliding/floating timeline applies. Story instances for TV and other media will be clearly marked.
Astronema creates the Psycho Rangers, including Yellow, from individuals she destroys and uses as raw materials. Dark Specter gives her the ability to do so. After "making" them. They become staunchly loyal to their "mother." Psycho Yellow is based on Ashley Hammond's brain wave patterns and automatically knows everything about Ashley, her weapons and strategies. She prefers operating alone to fulfill her own goals and utilizes the Psycho Sling and has a spider/hornet-like monster form.

TV STORY-Power Rangers: The Psycho Path
In Space
Psycho Yellow is first seen in her true, spider-like monster form on Onyx during Andros' visit there in disguise, among many other monsters. Andros does not interact with her at that time.

TV STORY-Flashes of Darkonda
Psycho Yellow, along with the other Psycho Rangers, attack Angel Grove disguised as the Yellow Space Ranger, causing a great deal of destruction before the real Space Rangers arrive. During the battle which ensues, they reveal themselves as the Psycho Rangers and nearly defeat the Power Rangers before Zhane arrives on his Silver Cycle with his bike having the firepower to make them flee.

TV STORY-Rangers Gone Psycho
During one of the battles, the Psychos captures the Mega Voyager and hide it on a planet. They use it as bait to lure the Space Rangers into a trap. When the Rangers arrive to recover their Zords, they discover that Psycho Yellow has turned herself into a computer virus and inserted herself into the Zord's computers thus controlling it completely. She is defeated when the Psychos begin fighting amongst themselves and attack the Mega Voyager, forcing her to evacuate. She tries to refuse to fight but Psycho Red brainwashes her into fighting him and they combine powers for the Full Power Blast. However, the Rangers use the energy to fire a supercharged Mega V3 Missile Mode which vaporizes the Space Rangers.

TV STORY-The Enemy Within
The Psycho Rangers return in ghost form but are unable to attack the Rangers when they are in Secret City.

TV STORY-Mission to Secret City
The Psycho Rangers are able to use Astronema's digitizing machine to reconstitute themselves and then they attack again. However, the Space Rangers are able to lure them back to the digitizing machine. This results in Yellow and the others being digitized with Astronema last seen in possession of the data cards that contain them.

TV STORY-Ghosts in the Machine
Lost Galaxy
Deviot retrieves the data cards with the Psycho Rangers on them a year later and resurrect them to serve Trakeena to capture and kill the Galaxy Rangers. They send Psycho Yellow and Psycho Black after Damon and Maya who they easily capture. Later, The Space and Lost Galaxy Rangers destroy Psycho Yellow for good, using the combined power of the Spiral Saber Booster Mode, Quadroblaster and the Lights of Orion Power-Up Mode attack.

TV STORY-To the Tenth Power
The Psycho Path
Psycho Green later uses Astronema's data cards to revive the Psycho Rangers, including Psycho Yellow. The Psycho Rangers hunt down Astronema, now Karone, on KO-35. Karone willingly leaves with the Psycho Rangers, deceiving them into believing she still has Astronema within her. Karone slowly earns the Psycho Rangers' trust as she teaches them the value of family, though Psycho Yellow is the most skeptical of Karone's intentions.
Andros and the Space Rangers eventually locate the Psycho Rangers, and a battle ensues. Psycho Yellow battles and defeats the Blue Space Ranger. When Karone is blasted by Psycho Green, Psycho Yellow and her teammates retreat to save her. Psycho Pink knocks out Psycho Green and Karone tells them she must kill them so that they may be reprogrammed. Psycho Yellow believes she wants to turn them into different people, and the others agree until Psycho Pink, who has chosen the name Nokrea, agrees to allow Karone to kill her.
Karone later carries the unconscious Andros out of the Psycho Rangers' spaceship, telling the Space Rangers that she killed the Psycho Rangers and reprogrammed them. However, in truth Karone could not kill the Psychos, instead destroying their data cards so that they could remain who they are. Karone, having been Astronema for many years, believed they could reclaim their humanity the way she did. Psycho Yellow, who chose the name "Yellow", watches over the imprisoned Psycho Green. She regroups with her teammates at the ship's controls and sets off for adventure.

COMIC STORY- Power Rangers: The Psycho Path
Beast Morphers
Yellow is shown in archive footage along with the other Psycho Rangers in Scrozzle's database, when the are looking for a past villain to revive with the Reanimizer and come across Psycho Red, Robo-Blaze deems that Psycho Red is the perfect candidate, Robo-Roxy is not sure. She recalls that Psycho Red's obsession over Andros led to the Psycho Rangers' destruction as footage of the Psycho Rangers being destroyed by both the Space Rangers and Galaxy Rangers is shown. Blaze is disgusted and wants to use the Reanimizer to revive all the Psycho Rangers. However, Scrozzle has the resources for resurrecting only one, as a result the villains follow search in Ryjack's collection.

TV STORY-Making Bad

Video game appearances
Power Rangers Legacy Wars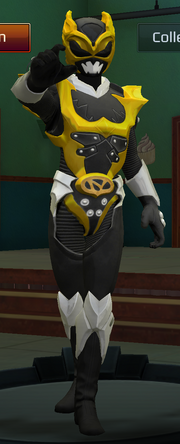 Psycho Yellow appears as alternate skin for Nokrea/Psycho Pink, who feature in Power Rangers Legacy Wars.

Personality
Psycho Yellow was analytical, logical, and calm, mostly taking things in stride but being careful to withhold judgement until she better understood a situation. She could be quite playful when testing out weaponry, indicating that she had a passion for building new weapons and technology. However, she was not very trusting as she may have felt love for Karone but was intelligent enough not to trust her at the time. Yellow possessed the most disregard for her sense of identity, refusing to take an individual name beyond her Ranger color but was easily the most objective and intelligent of her team. 
Forms
Powers and Abilities
Powers
Abilities
Weaknesses
Arsenal
Powers and Abilities
Powers
Abilities
Weaknesses
Arsenal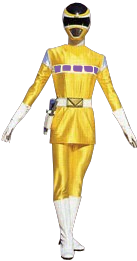 Powers and Abilities
Powers
Abilities
Weaknesses
Arsenal
Disguises
Behind the Scenes
Portrayal
Psycho Yellow/Yellow was voiced and played by Kamera Walton who also played her human form, her suit actor in Super Sentai footage from Megaranger portrayed by Shōji Hachisuka (蜂須賀 昭二 Hachisuka Shōji) & her suit actor in US footage was Kazuhiro Yokoyama (

横山 和博

Yokoyama Kazuhiro

).
Design
to be added
Etymology
to be added
Notes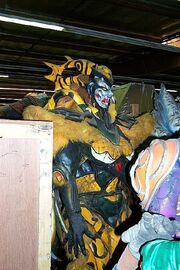 Psycho Yellow was the first evil female Ranger to have a human/civilian form.
Appearances
See Also
References