Yale is a cat-like alien from Saard and one of the aliens empowered by the Morphin Grid before being cured from it. They later became the second Blue Omega Ranger.[1]
History
As a kitten, Yale was the "runt of the litter" and was doted on by their mother because of this. This imbued them with a sense of love, kinship and peace. From then on they drew the attention of a mysterious figure, who watched them all their life. They alone broke free of their family's owners because they were small enough to slip outside the bag that held their litter but was unable to break them free, leaving him on his own. They eventually developed a bond with a boy that they swore to protect forever. But due to having been powered by the Morphin Grid, they caused an immense blast and worried the boy's parents. They drove them away after. The boy still went out searching for them in the cold night, and lost his way. Yale was able to find the boy in the snow and warm him with their powers, saving the boy.

COMIC STORY- Power Rangers (Boom! Studios) Issue 10
The Omega Rangers were later sent to Saard to apprehend Yale due to their connection to the Morphin Grid. Yale proved too strong for them so Kiya was sent to weaken them so the Rangers can capture them.

COMIC STORY- Go Go Power Rangers Issue 31 Yale was later released after he was no longer empowered by the Morphin Grid, and was allowed to roam free aboard the Spectrum II, much to Zack's dismay.

COMIC STORY- Power Rangers (Boom! Studios) Issue 1 Zack then tried to play fetch with Yale but they scratched the ball. Before Zack can process his actions, the power in the Spectrum II went off. When the Horrid was about to kill Zack, Yale intervened and scared them away.

COMIC STORY- Power Rangers (Boom! Studios) Issue 2
Yale stayed on as a companion for the Omega Rangers, XI and Drakkon as they hunted the Empyreals and brought the Hartunians to Safehaven. There they find a new friend in the orphan child Reeshka. They bonded with her much as a cat bonds with a new child. However, peer pressure caused Reeshka to drive them away. Some time later, the mysterious figure, who had been watching Yale all their life, alerted him to the danger that Reeshka and her friends were about to face. The children had been looking for a Morphin temple in an adventure and had come across a giant serpent. Yale stepped in and saved them. Reeshka renewed her friendship with Yale. Later that day, the mysterious figure beckoned Yale to come to the temple. Here Yale finds the blue Omega Morpher. The mysterious figure, revealed to be the Blue Emmissary, reveals that he remained bound to this world after death so he may complete the circle. In Yale, instead of ambition, he finds forgiveness and instead of power, strength. He acknowledges that Yale is the final piece of the puzzle, and now that he's found Yale, he can finally rest.

COMIC STORY- Power Rangers (Boom! Studios) Issue 10
Blue Omega Ranger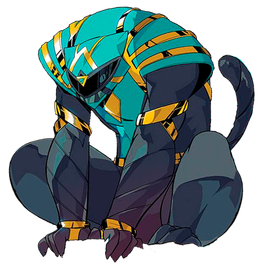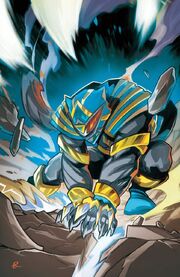 Arsenal
Zords
Behind the Scenes
Design
to be added
Etymology
to be added
Notes
Appearances
See Also
References