"I got to give it a ride! No regrets!"
―Final words before Death
Wunjet (ウンジェット Unjetto) is the Karō of Space Shogunate Jark Matter who ruled the Leo Minor Constellation system.
Character History Edit
to be added
PersonalityEdit
to be added
Powers and AbilitiesEdit
Control Hand (ソージュー肢 Sōjūe): Wunjet's tentacles use for control mechas
Play Robot (プレコンジ機 Purekonjiki): Wunjet's mecha with hand blade that can shoot energy slice and gatling gun equipped on its shoulder.
Height: 44 cm/205 cm (Robot suit) (Giant Height / 47.2 m)
Weight: 40 kg/301 kg (Robot suit) (Giant Weight / 692.3 t)
Title: Karō of Leo Minor
Born: Ougo of Leo Minor
Category: Creature Alien
Inrō: Waist
Aka: Jet Pilot of the Space
Behind the ScenesEdit
PortrayalEdit
Wunjet is voiced by Motoki Takagi (高城元気 Takagi Motoki). His suit actor is Hiroyuki Muraoka (村岡 弘之 Muraoka Hiroyuki).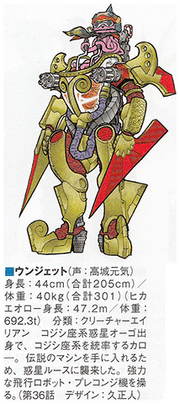 ReferencesEdit