Hazard Level: 110 (Orihalcon Container); 130 (Vril)
The Vril (ヴリル , Vuriru, 8): It is a tiny, spherical quasi-lifeform that scans and extracts information of any object or being with its three eyes and mimics it, gradually evolving to a more complex form until it can attempt to replace all of humanity.
Character History
It was found inside a strange metallic container, akin to a Russian nesting doll, mistakenly thought by the Boukengers to have been Orichalcum, the legendary metal of Atlantis. The Boukengers fought and took it from Arch Priest Gajah (what he wanted with it is unknown), whom actually warned them what it really was when they took it, but they of course thought he was lying. Once freed, Vril took the forms of a pen, a piggy bank, a plant, a chair, and Souta Mogami himelf. After seizing data from Souta's laptop, Vril-Souta copied the Boukengers' forms, morphing into a clone of Bouken Blue, Vril Blue (ヴリルルー, Vuriru Burū), after Souta attacked it to save Natsuki Mamiya from it. Vril Blue then multiplied by the hundreds after it was blasted with the Dual Crasher, only to be immobilized by GoGo Mixer. However, Vril Blue and its copies merged to form a VERY obviously imperfect DaiBouken copy. Vril is terminated by DaiBouken Drill and Mixer's Bind Break.
Personality
to be added
Forms
Notes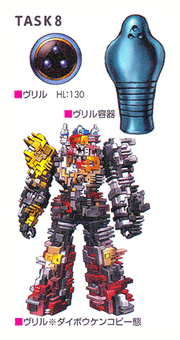 Portrayal
As Vril-Souta, Vril is portrayed by Masashi Mikami (

三上 真史

Mikami Masashi

).
Behind the Scenes
considering all other monsters from boukenger are based on sentai mecha, Vril could be considered to be based on boukenger' sown GoGo Gattai DaiBouken albeit this actually has a story reason to resemble the team's mech
References
Community content is available under
CC-BY-SA
unless otherwise noted.