"Raimon!"
―Final words before Death
Ushibaroque the Brawl (ウシバロック・ザ・ブロウ Ushibarokku za Burō) was a bull-themed Gangler Monster of the Interdimensional Crime Group Gangler and a member of the Raimon Gang, who is equipped with the "The heat is there/La chaleur est là" treasure from the Lupin Collection.
Physical AppearanceEdit
Ushibaroque the Brawl's face is a grey knight mask with orange cat ears, his hands are red and his orange arms has bull horns, his brown torso has red bullhorns, his chest has a Gangler safe with 2 bison horns and a bull nose at the bottom, his brown and red cowboy boots has white dinosuar bones at the sides, his overall appearance is like a cowboy.
Character History Edit
to be added
PersonalityEdit
He is a very prideful chef, not tolerating anyone whose cooking is better than his.
Powers and AbilitiesEdit
Human Disguise: Like every Gangler Monster, Ushibaroque has the special ability to disguise himself as a Big Mouth Man to hunt for treasures.
Heat generation: Due to the "The heat is there/La chaleur est là" treasure equipped in his safe, he can generate heat from his body.
Height: 196cm (Giant: 49m)
Weight: 226 kg (Giant: 565 tons)
Criminal Record: kidnapping
Lupin Collection: "The heat is there/La chaleur est là" Ring
Gangler Safe Location: Chest
Password Number: 7-1-5
Behind the ScenesEdit
PortrayalEdit
EtymologyEdit
Ushibaroque's name contains the Japanese word for "cow" (牛 Ushi).

His name also a play on Rokusaburo Michiba (道場六三郎 Michiba Rokusaburõ), a Japanese cuisine chef.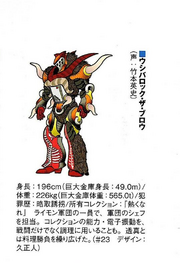 Animal Theme: Bull
Possible Prehistoric Basis: Aurochs
Ushibaroque is the first member of the Gangler not to have their last name revealed.

He also the only one to have label with his name.

He is the only member of the Raimon Gang whose costume isn't modified from a previous Gangler.
Ushibaroque has a slightly similar facial appearance to Gyuki from Kamen Rider Decade.
ReferencesEdit