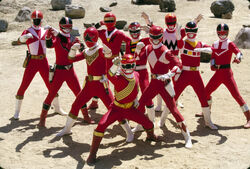 About me
Well I've been a Power Rangers fan since I was young and I still love watching it and reliving nostalgic memories of it.
Ranking the seasons
Favourtie Episodes
Forever Red, Countdown to Destruction, Day of the Dumpster, Doomsday, Journey's End, To The Tenth Power, The Power of Pink, Always a Chance, The End of Time, Reinforcements from the Future, Legacy of Power, Back in Black, Fighting Spirit, Green With Evil, White Light, The Fate of Lightspeed, Rangers Gone Psycho, A Rift in the Rangers, Five of a Kind, Silence is Golden, The Enemy Within, Mission to Secret City, Ghosts in the Machine, Movie Madness, Protect the Quasar Saber, The End of the Power Rangers, S.W.A.T., Reflection, Beginnings, Endings, Frax's Fury, Dawn of Destiny, Fight Against Fate, Destiny Defeated, Day of the Dino, Thunder Storm, Thunder Struck, History, Wormhole.
My favorite pages
Add links to your favorite pages on the wiki here!
Favorite page #2
Favorite page #3
Community content is available under
CC-BY-SA
unless otherwise noted.