"Sir!"

―Uorlian's first words when summoned by Warz Gill.
"What the?!"

―Uorian reacting to GokaiSilver in Gold Mode and his final words before his initial defeat.
Uorlian (ウオーリアン, Uōrian) was an Action Commander of the Space Empire Zangyack.
History
Uorlian is a skeletal Action Commander with a piranha skeleton in place of his left forearm and hand who was summoned by Warz Gill. Uorlian is deployed to fish the "skeletons" out of humans to rendering them extremely lazy, so much so that they couldn't do much other than lie on the ground, as so to remove any resistance. Defeated by GokaiSilver using the Gokai Legendream Final Wave in Gold Mode, an enlarged Uorlian is then destroyed by GoZyuJin's GoZyu Triple Drill Dream.
Super Hero Taisen
However, he is revived in Kamen Rider × Super Sentai: Super Hero Taisen
, as a member of the Shocker-Zangyack Alliance. They eventually fought against the army of Kamen Riders and Super Sentai. He is seen fighting Battle Kenya, and the Changemen in the background of the aerial attacks.
Profile
Uorlian was originally an alien with an organ in his left arm that could absorb calcium. Insarn equipped him with a Deboning Beam Arm and a Deboning Rod.
He was in charge of "Operation Debone Earthlings" (

地球人骨抜き作戦

Chikyūjin Honenuki Sakusen

).
Height - 196cm (Giant Form - 51.3m)
Weight - 132kg (Giant Form - 330.0t)
Behind the Scenes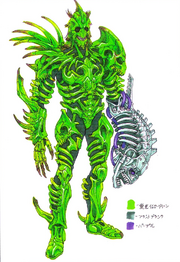 Uorlian is voiced by Akio Suyama (

陶山 章央

Suyama Akio

).
He was designed by Yasushi Nirasawa.
His motif is a combination of a piranha and fish bones.
His name is a portmanteau of "uo" (

魚,

fish

) and "alien."
Appearances
References
External links
See also
Community content is available under
CC-BY-SA
unless otherwise noted.