This article is about a/an series entry (the "41st") in the Super Sentai series.
Uchu Sentai Kyuranger (宇宙戦隊キュウレンジャー, Uchū Sentai Kyūrenjā), translated as Space Squadron Nine Ranger, is the 41st season of Super Sentai. It joined Kamen Rider Ex-Aid
on the Super Hero Time block on February 12, 2017, replacing Doubutsu Sentai Zyuohger. After Ex-Aid's finale, Kamen Rider Build
joined Kyuranger on the Super Hero Time block, along with a new airtime an hour later. On February 11, 2018 it was replaced by Kaitou Sentai Lupinranger VS Keisatsu Sentai Patranger as part of the Super Hero Time block. It has a space theme, with the Rangers themed after constellations and gear based on stars and planets.
Like Ressha Sentai ToQger, Kyuranger was one of the series skipped in favor of another series, named Power Rangers Dino Fury, which would be adapted from Ryusoulger. This show was also aired in South Korea as Power Rangers Galaxy Force (파워레인저 갤럭시포스 Pawaleinjeo Gaelleoksiposeu).
On April 27, 2019, this show was dubbed in Indonesian under the name Kyuuranger [1], making it the first Super Sentai show since Gingaman be aired in Indonesia, as well as the first 2010s Super Sentai show to be aired in Southeast Asia. The dub was made available on Youtube in the same year, but has been taken down as of 2022.
The average ratings of the series was 3.0%.[2]
Production
to be added
Plot
"When people shed tears after the galaxy falls into the hands of the heartless, nine saviors chosen by the Kyutama, the Kyurangers, will save the galaxy."
―Narrator[src]
Earth has been taken over by invaders. With the universe under their thrall, the tears of the people awaken the nine ultimate saviors, chosen by the Kyutama, and they are here for the galaxy's salvation. Nine different people with strong personas. The most powerful warriors arrive here and now. (Official synopsis)
Characters
Kyurangers
Allies
Major Allies
Minor Allies
Other
Confrontation Beast
Chameleon-Fist Mele
Mele
Zyuoh Tiger
Amu
Space Sheriffs
Villains
Space Shogunate Jark Matter

Shogun
Vice-Shogun
Karo
Daikaan

Known Daikaans
Known Tsuyoindaver Daikaans
Known Executioner Daikaans
Known Other Daikaans

Assassins
Independent Units
Scientist
Others
Grunts
Other
Arsenal
Transformation Devices
Multi-Use Devices
Individual Weapons and Team Weapon
Other Devices
Mecha
Voyager System
Legend:◆ piloted mecha,  2-person mecha, ❖ auxiliary mecha
Auxillary
Alternate Combinations
Episodes
The episodes in this Sentai season are called Space., which is spelled in a similar manner to the "Episode." in Tokusou Sentai Dekaranger's episodes.
Movies
Specials
Transformation Lessons ~Let's Star Change Together!~ (

宇宙戦隊キュウレンジャー 変身講座 ~君も一緒にスターチェンジ!~

Uchū Sentai Kyūrenjā Henshin Kōza Kimi mo Issho no Sutā Chenji!

)
From Episode of Stinger, Uchu Sentai Kyuranger: High School Wars (

from Episode of スティンガー 宇宙戦隊キュウレンジャー ハイスクールウォーズ

Furomu Episōdo Obu Sutingā Uchū Sentai Kyūrenjā Hai Sukūru Wōzu

)
CD Dramas
Shou Ronpo: It's Tough to be a Commander

(

ショウ・ロンポーの司令官はつらいよ

Shō Ronpō no Shirei-kan wa Tsurai yo

)
(

宇宙戦隊キュウレンジャー 泣かせろ! タマキュウ一座大一番!

Uchū Sentai Kyuurenjā Nakasero! Tamakyuu Isshika Ichibancho!

)[5]
Songs
Opening theme
Ending themes
"Kyutama Dancing!" (

キュータマダンシング!

Kyūtama Danshingu!

)

Artist: Tsuyoshi Matsubara (

松原 剛志

Matsubara Tsuyoshi

) (Project.R)
Lyrics: Nozomi Inoue (

井上 望

Inoue Nozomi

)
Composition:

Atsushi Hirasawa

(

平沢 敦士

Hirasawa Atsushi

)
Arrangement:

Satoshi Kawase

(

川瀬 智

Kawase Satoshi

) (Project.R)

"Kyutama Ondo!" (

キュータマ音頭!

Kyūtama Ondo!

)
Insert themes
"Seigi no Tsuwamono Rebellion" (

正義の兵(つわもの)リベリオン

Seigi no Tsuwamono Riberion

, "Soldiers of Justice, Rebellion")

Artist:

Tamashii No Sankyoudai

(

魂の三兄弟

Tamashī no Sankyōdai

)
Mecha themes
Character themes
"Lucky SMILE" (

ラッキーSMILE

Rakkī Sumairu

)

Artist: Lucky / Takumi Kizu (

岐洲匠

Kizu Takumi

)
Lyrics: Nozomi Inoue (

井上望

Inoue Nozomi

)
Composition:

Koji Mase

(

間瀬公司

Mase Kōji

)
Arrangement:

Takeharu Nakehata

(

中畑丈治

Nakehata Takeharu

)
Episode of Stinger songs
Cast
Suit Actors
Stage Shows
Video Release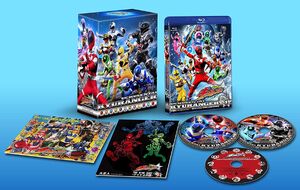 The show was released on DVD in 12 volumes, along with a 4-volume Blu-Ray release. All movies were released as individual releases.

Toyline
Notes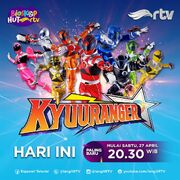 This is the first Super Sentai season to be explicitly set in its own universe, distinct from the main universe that the rest of Super Sentai is set in.
In addition to representing the number of the first nine (

九

Kyu

) members, the "Kyu" (

キュウ

) in the title could also represent multiple meanings:

究 (

Kyu

) from "ultimate" (

究極

Kyukyoku

).
救 (

Kyu

) from "savior" (

救世主

Kyuseishu

).
宮 (

Kyu

) from " astrological sign" (

黄道十二宮

Kōdō Jūnikyu

).
球 (

Kyu

) from "sphere" (

球体

Kyutai

)

This is the first season to have more than five rangers in the core team, with nine; however, it briefly starts with only three rangers in the first episode.
This is the first season in which the main objective of the Sentai Team is not to prevent neither the conquest nor the destruction of the Earth at the hands of the villain faction. Instead the main objective is liberating it as it was already conquered by the villain faction.
This is the first team whose theme involves actual star constellations, referring to the 88 major constellations of the night sky.

While Gorenger was associated with the constellation Cassiopeia ("The Seated Queen"), this is not revealed until the series' final episode.
Carranger likewise associates with constellations, but involved completely fictitious "car constellations", unique to their series and not associated with real constellations.

This series is the first in the franchise to have a TV Asahi producer as chief producer and have creative input from Bandai America. [6][7]
Subaru Kimura is the first foreigner and the youngest voice actor who narrates and voices the Sentai equipment.
With this series, Super Sentai's timeslot changed from 7:30am to 9:30am starting in October.[8]
With a total of 12 rangers in the show, Kyuranger is the largest Sentai team to date.
Along with ToQger, Zyuohger, and Lupinranger VS Patranger, Kyuranger does not have a Power Rangers adaptation as of yet.
See Also
External links
References