Tyler Rinker is Grid Battleforce Orange Ranger, the Orange Ranger of the Grid Battleforce Rangers, existing only as character created specifically for collaboration between Hasbro and Make-A-Wish.[1]
History
to be added

Beast Morphers Orange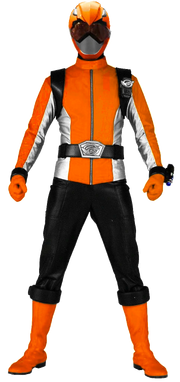 Behind the Scenes
The Beast Morphers Orange Ranger is inspired by Tyler Rinker, an 8-year old boy from New Jersey, whose greatest wish is to be an Orange Power Ranger so he can make the world a safer place for everyone. Tyler's wish came true at the Annual Make-A-Wish New Jersey Gala on June 13.
Notes
Tyler Rinker was given a variant cover all his own. The cover was for Mighty Morphin Power Rangers (Boom! Studios) Issue 40. The cover was done by Goni Montes and was sold at San Diego Comic Con 2019, with 20% of profits going to the Make A Wish Foundation.
Tyler also appears on the Ranger army cover of comics.
While his animal wasn't specified, his helmet appears to be bird-themed.[2]
References