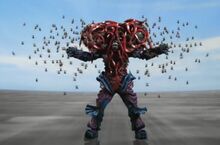 "Thank you for summoning me. You need some pain from me? (....) Understood. I will shoot them."
―Tsubotoguro's first words[src]
"I just sent them a bug of pain. It rampages in their stomach."
―Tsubotoguro's first words to Shinkengers[src]
"Want some pain?!"
―Tsubotoguro's catchphrase as well as his final words before his initial defeat.[src]
"Nosakamata, appear! Go!"
―Tsubotoguro ordering his secondary support to appear and then fire on Tora ShinkenOh as well as his final words before his death.[src]
Tsubotoguro (ツボトグロ, 42) is an Ayakashi who serves under Akumaro Sujigarano, able to unleash a swarm of insects from his body with his signature phrase before unleashing it being "(you) want some pain?!" He can also extend the tenetacles around his body and shoot a purple beam from his mouth.
History
Sent by Akumaro, he was tasked with using his swarm to cause human misery in order to produce the final wedge for Akumaro's plan. After being slain by Super Shinken Red, having destroyed his bugs with his Kaen No Mai attack and using the Mougyu Bazooka to perform the Heretic Ruination, he grew and fought ShinkenOh. He wrapped it up with his tentacles but was knocked down by the Lion Flame Howl attack at which point he summoned help in the form of a couple of Nanashi. However, they broke free with the aid of the Kabuto Origami and Kajiki Origami and formed Kabuto ShinkenOh which easily destroyed most of the Nanashi. They then formed Kajiki ShinkenOh and destroyed the rest. Tsubotoguro then unleashed his bugs again but Tora ShinkenOh destroyed then with its finishing attack. Tsubotoguro then summoned two Nosakamata which shot Tora ShinkenOh. However, they immediately formed Tenkuu ShinkenOh in the midst of the explosion but, although an upward slash destroyed the Nosakamata, Tsubotoguro survived the Tenkuu Bamboo Slice. With few choices left, they then formed DaiKaiShinkenOh and finally finished off Tsubotoguro with the Ika Tenkuu Buster's Origami Grand Release attack.
Yokai Origin
According to Chinese folklore, the Hitōban (飛頭蛮, Hitōban) is a creature whose head can float freely from its body. It is thought that this legend originates from Tsubotoguro's insects, which resemble disembodied heads.
Personality
to be added
Powers and Abilities
Powers
to be added
Abilities
to be added
Weaknesses
to be added
Arsenal
to be added
Behind the Scenes
Portrayal
to be added
Design
His design is based on the hitōban, a monster in Chinese folklore that can detach its head from its body.
Concept Art
Etymology
His name is a combination of tsubo (

壷,

vase

) and toguro (

とぐろ,

coil

).
Notes
to be added
Appearances
to be added
See Also
External links
References