"Over 108 sister schools all over Japan. And a total of 450,000 students in attendance. It is finally the era where all psychics shall rise up!"

―Trinoid 3: Tensaikikku's (posing as a human) first words

Trinoid #3: Tensaikikku (トリノイド三号.テンサイキック, Torinoido Sangō: Tensaikikku, 11): Tensai (Sugar Beet, but it also means Genius) + Sai (Rhinoceros) + Psychic. Posed as a human to set up the Genius Bushiban school, offering to give people psychic power with his Psychic Carrots while making them into his slaves.
He used his Psychic Group to fight the Abarangers, until Emiri destroyed the source of his power, knocking the others conscious before he was defeated by a combo attack of Emiri using Abalaser and the other with the Dino Dynamite attack. He was killed by Abarenoh, only to be revived as "Tensai Yellow" to form part of the Evoranger, but was later killed along with his teammates by AbareKiller in Abare Mode.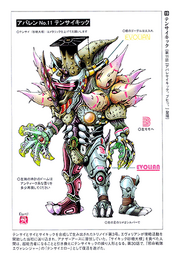 External Links
See Also
Community content is available under
CC-BY-SA
unless otherwise noted.