Wiki Targeted (Entertainment)
Play Sound
"Now, feel my Midsummer Kotatsu Attack!"
―Tsutakotatsu's first words
"Here! One large order of octopus, coming up!"
―Tsutakotatsu's first words being enlarged
"I'm inkapacitated!"
―Tsutakotatsu's final words before his death
Trinoid #16: Tsutakotatsu (トリノイド十六号.ツタコタツ, Torinoido Jūrokugō: Tsutakotatsu, 27) is a Trinoid comprised from Tsuta (Ivy) + Tako (Octopus) + Kotatsu.
History
Tsutakotatsu was able to switch his victims' minds with his tentacles. As a result Ryouga and Yukito's minds were switched, which also prevented them from transforming due to the misalignment of their Dino Guts.
In their next encounter, the Abarangers were able to trick Tsutakotatsu into restoring Ryouga and Yukito by making him think that they were already restored with one of Ranru's inventions the Ranran Change System by acting like the other, which also included having Ranru and Asuka also act like each other in a fake demonstration to further the deception.
However, when enlarged he was able to switch Tyranno and Kera's minds preventing AbarenOh from fighting at full strength. Tsutakotatsu took advantage of this until AbareKiller got in the way to steal the Abarangers' Bakuryuu in their current condition. Killed by KillerOh, which also undid the effects on Tyranno and Kera.
Powers and Abilities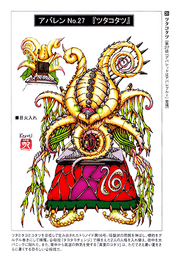 Octopus Change (

タコタコチェンジ

Tako Tako Chenji

)
Takoyaki Bomber (

たこ焼きボンバー

Takoyaki bonbā

)
Midsummer Kotatsu (

真夏のコタツ

Manatsu no kotatsu

)
Profile
Paints used by Apostle of Creation Mikela:
Entwined ivy pigment with Vitaceae vine wrap extract
Hot, hot takoyaki pigment with Cephalopod eight-tentacle suction cups extract
Summer kotatsu pigment with spontaneous extract
Notes
External Links
Community content is available under
CC-BY-SA
unless otherwise noted.