"I pray so I can beat the Abarangers."

―Ayameganezumi's first words
"The rat goes squeak!"
―Ayameganezumi's first words being enlarged and final words before his death

Trinoid #11: Ayameganezumi (トリノイド十一号.アヤメガネズミ, Torinoido Jūichigō: Ayameganezumi, 17): Ayame (iris) + Megane (Spectacles) + Nezumi (Rat). Planted irises grow on summon an April Front shower to cause trouble. Defeated by the Super DinoBomber after a brutal laydown by Abare Black, Ayameganezumi was killed by Abarenoh Slidon. Was revived as Ayamega Blue, only to be killed by Abare Killer.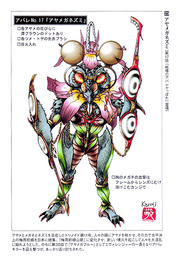 External Links
See Also
Community content is available under
CC-BY-SA
unless otherwise noted.