""What? No! Don't!""

―Tirinoid 0; Saunagunnan before having Killer Abarenoh rip through his middle and his final words before his demise.
Trinoid #0: Saunaginnan (トリノイド零号.サウナギンナン, Torinoido Reigō Saunaginnan, Dekaranger vs. Abaranger): Sauna + Unagi (Eel) + Ginnan (Ginkgo). This Trinoid was created long before the others that appeared in Abaranger. Mikela sealed him away in a red orb because of his great power.
Character History
Kazakku resurrected him in order to bring back Dezumozorlya. He has the ability to resurrect the dead, but only when he is powered up. Saunaginnan was only able to revive a couple of Minor Alienizer and AbareKiller & Blastasaur TopGaler (by accident). Killed by the teamwork of KillerAbarenoh & Super Dekaranger Robo.
Personality
Modus and Arsenal
Notes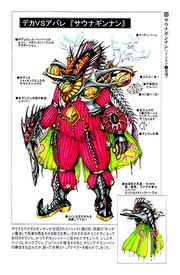 Portrayal
Behind the Scenes
See Also
References
Community content is available under
CC-BY-SA
unless otherwise noted.