"I feel somethin' big comin' on!"

―Torch Tiger while growing
Torch Tiger is a fire-breathing tiger-themed monster, who volunteered to battle the Rangers while at Divatox's monster boot camp, but initially couldn't breathe fire. He suffered embarrassment the first time he fought the Rangers. After Divatox's men mistankenly stole the Rangers' Booster Fuel for their vehicles with a magical net, Torch Tiger drunk it, making him breathe fire. He then poured it into his own bike's tank. Torch Tiger knocked the Rangers down a mountain, but then the Rangers raced in with Storm Blaster and Lightning Cruiser and delivered a beating to the monster. Divatox then reluctantly ordered the torpedo launch, turning the Torch Tiger into a giant. Torch Tiger was destroyed by the Rescue Megazord.
Originally, he was seen on Gratha, within the group of Divatox's monsters.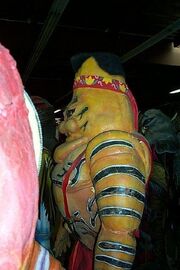 Powers and abilities
Fire manipulation: as Torch Tiger supposedly have this ability, homever he can master it for some reason. But after drink Ranger's Booster Fuel, he can manipulate fire from his mouth whoever he wants.
See Also
References