"Welcome to my magic show. Let's see what I have inside my hat!"
―The monster's first lines to the Rangers before engaging them in a Megazord battle.[src]
"The show's over!"
―The monster's final words before his destruction.[src]
Top Hat is one of Kamdor's creations. He is a silk hat/animal picture monster that appears as supporting antagonist of the episode "It's Hammer Time".
History
A silk hat/animal picture book monster created by Kamdor from a silk hat. He seemed to act and be referred to as a magician. Kamdor made him grow right after he was created. When engaging the DriveMax Ultrazord and the Flash Point Megazord, he summoned a snake from his hat to constrict the DriveMax Ultrazord and used its umbrella to deflect the Flash Point Megazord's attack. However, the Rangers replaced the arms of the Ultrazord and Megazord, which was combined with the Drill and Shovel Drivers and used by Tyzonn to destroy the monster.

TV STORY-It's Hammer Time
Personality
With a personality similar to that of a magician, Top Hat was shown to be faithful to Kamdor and wanted to defeat the Rangers at any cost.
Powers and Abilities
Powers
Flight: This monster can fly at high speed using the jet thrusters under his feet.
Abilities
Strength: Despite this monster's appearance, it is powerful enough to overpower both the DriveMax Ultrazord and the Flash Point Megazord.
Weaknesses
to be added
Arsenal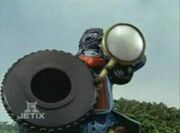 Magic Hat: This monster possesses a magician hat, which can launch a snake from his hat to wrap his enemies with and turn into chains that are powerful enough to restrain the DriveMax Ultrazord.
Reflector Umbrella: This monster also possesses an umbrella that he can use to absorb his enemies' attacks and fire that attack back at the enemies. It is strong enough to send back the Flash Point Megazord's Hydro Blast.
Sword: This monster also possesses a sword to aid him in combat.

Unknown Attack-Top Hat would draw his sword and charge forward, generating an image of Earth before him. He would then presumably energy slash his opponent with devastating force in what is presumably his strongest attack. How much damage this attack would actually do is unclear as Tyzonn destroyed him whilst he was performing this move.
Behind the Scenes
Portrayal
Top Hat is voiced by an unknown actor.
Design
to be added
Etymology
to be added
Notes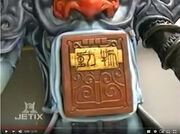 Appearances
to be added
See Also
References