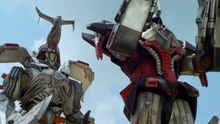 Tooldrone was a Gamma Model Gigadrone, created from the data of Tooltron in Power Rangers Beast Morphers. It held the first Delta Model Gigadrone inside.
Overview
to be added
History
Tooldrone is sent by Scrozzle to fight the Rangers immediately following the destruction of Tooltron. Suddenly, a new Gigadrone emerges from its back and they fight the Rangers. Tooldrone grabs the Wrecker Zord's arm with its wrench arms and tries to crush it but the Jet Zord opens fire, knocking Tooldrone away. The Delta Gigadrone and Tooldrone are finally destroyed by the Beast-X Megazord and the Striker Megazord respectively.
Powers and Abilities
Powers
Delta Model Deployment: Tooldrone could deploy a Delta Model Gigadrone out of its back in a massive display of yellow tendrils.
Abilities
Strength: Tooldrone was strong enough to nearly crush the Wrecker Zord Battle Mode into oblivion.
Weaknesses
to be added
Arsenal
Wrench Arms: Tooldrone possessed wrench-shaped arms that are capable of potentially crushing the Wrecker Zord.

Lightning Effect: Tooldrone could power up its wrench arms with light blue colored lightning for an additional damage on the enemy.
Energy Lasers: Tooldrone could fire red-orange colored energy lasers from its wrench-shaped arms. These caused massive explosions but failed to faze the Wrecker or Jet Zords.
Behind the Scenes
Portrayal
Tooldrone was completely silent.
Design
to be added
Etymology
to be added
Notes
Despite being the first Gigadrone to deploy a Delta Model in Power Rangers, the later appearing Spikedrone was the first to deploy one in Go-Busters with Tooldrone being the second.
Tooldrone was the first Gigadrone in Power Rangers Beast Morphers to have differently designed hands than its Robotron counterpart. Tooltron had regular human hands whereas Tooldrone had wrenches for hands instead.
Tooldrone is the first Gigadrone in Power Rangers Beast Morphers to be faced by the Wrecker Zord, as well as the Striker Megazord.
Appearances
to be added
See Also
References