Three Ladies of Hell (三人官女, Sannin Kanjo): Three sisters who served as Akomaru's bodyguards/nannies. Earring was defeated by Kibaranger, Necklace by Dairen'Oh and Ring by Kiba DaiOh.
History
Lady Earring
Lady Earring (イヤリング官女, Iyaringu Kanjo, 17, 18 & 22): She can shoot her hair to grab opponents in a constrictor hold. Mortally wounded by KibaRanger after she found out his true identity, she died from massive blood-loss while telling Akomaru.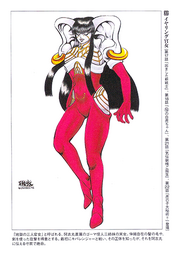 Lady Necklace
Elder Sister!" Final words before death
Lady Necklace (ネックレス官女, Nekkuresu Kanjo, 17-20 & 22): Able to extend her neck to great lengths & possesses telescopic vision in her 3rd eye. Working alongside Akomaru, she disguised herself as a mother indifferent to the actions of her daughter (Akomaru in disguise) whom Kou had a crush on, in a scheme to make him hate his own mother and thus have him join the Gorma. Killed by Dairen'Oh.
Lady Ring
"My little sisters. I'm going to that world." Final words before death.
Lady Ring (指輪官女, Yubiwa Kanjo, 17-22): She was able to create energy rings to lasso her opponents. After her two sisters died, Lady Ring vowed to avenge them. Using their possessions, Lady Ring could create "phantom" versions of her sisters to fight with her. Using this ability she easily defeated Mythical Qi Beast Won Tiger, but later became the first to be killed by Kiba DaiOh.
Personality
to be added
Powers and Abilities
Powers
to be added
Abilities
to be added
Weaknesses
to be added
Arsenal
to be added
Behind the Scenes
Portrayal
to be added
Design
Each of the Three Ladies is based on a type of jewelry and the part of the body that the jewelry is worn on.

Lady Earring is based on Earrings and Ears.
Lady Necklace is based on a Necklace and a Neck.
Lady Ring is based on a Ring and a Hand.
Etymology
to be added
Notes
to be added
Appearances
to be added
See Also
References