Hello to all, in Power Rangers Dino Charge it was recently revealed how Dino Drive, but during the trailer for Power Rangers Dino SuperCharge was revealed a second mode Dino Drive (yet unnamed). And this mode unlike Dino Drive mode has the blades set on the whole body of the Rangers.
And it was confirmed by means of the toys that is not the same mode. We may be able to load images and rename Super Dino Drive, until the series does not start again? how about?
This shows that they are two completely different ways, such as the way Mega Mode (Samurai) and Super Mega Mode (Supe Samurai).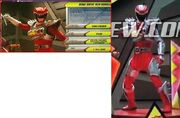 Community content is available under
CC-BY-SA
unless otherwise noted.