"Talk about miracle growth!"
―Trinoid´s words when grown by the Hydro-Regenerator
"Think I'll try out my swing. Don't try this at home!"
―Thornox´s last words before of his attack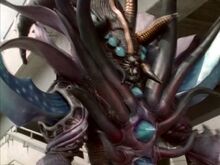 Thornox is a leech/gentiana/lapis lazuli monster, created by Elsa. He appears as the main antagonist in the episode Disappearing Act.
Character History
When Elsa creates Thornox, he is but a baby plant. When Mesogog demands a finished product, she goes to get some green ooze, which is also used by the Black Ranger to demorph, but he makes a disappearing act and is stuck invisible because of it. Elsa uses the ooze to make Thornox mature into a fullgrown monster. Thornox attacked the city and fought the Rangers. He blasted them with deadly balls from stolen Tyranno Staff, which he stole from Conner. Then he retreated. Then Thornox returned and fought alongside the evil White Ranger, and then after he is defeated by Super Dino Mode and destroyed with Z-Rex Blaster, he is then defeated by the Mezodon Megazord. Thornox was enlarged and aided by Dino Stegazord controled by evil White Ranger. Rangers fought with Thundersaurus Megazord, but due to the villain, they summoned and destroyed Thornox.

TV STORY-Disappearing Act
Personality
Thornox was cunning and boastful monster, but is also loyal to Mesogog and Elsa.
Powers and Abilities
Superhuman Strength
Plant Control
Energy Projection
Arsenal
Golf balls: He has golf balls that can multiply and explote in the enemies.
Thorns-shoulders: Combined with lapis lazuli, he can grown the thorns in his shoulders.
Lianas: He can shoot lianas and trapped to his enemies.
(temporarily)
Behind The Scenes
Portrayal
Notes
Thornox is the only monster, who used Tyranno Staff, except Copyotter who copied it.
See Also
References
Community content is available under
CC-BY-SA
unless otherwise noted.