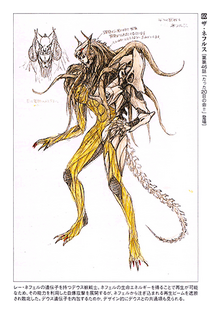 The Nefuluss (ザ・ネフルス Za Nefurusu) is a Deus Beast Warrior creation of the Reconstructive Experiment Empire Mess.
Character History
The third Deus Beast Warrior, created not out of Leh Näfel but as a Deus Beast Warrior clone of her with tough battle power. It has an ability to self-detonate it's own body causing major physical damage to the Flashman, but it's greatest ability is a possession of immortality through Näfel firing a beam from herself to the destroyed remains, making the Beast Warrior survive its own self-detonations and even Flashman finishers like the Rolling Vulcan. Realizing Näfel's connection to the Beast Warrior, Jin attacks her, allowing for the self-destructing Nefuluss to remain destroyed until Kuragen is sent to rebuild it, where it is fully defeated by Flash King.
Personality
to be added
Modus and Arsenal
Notes
Portrayal
Behind the Scenes
References
Community content is available under
CC-BY-SA
unless otherwise noted.