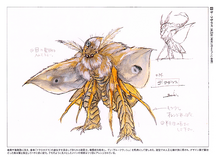 The Mazarass (ザ・マザラス Za Mazarasu) is a Beast Warrior creation of the Reconstructive Experiment Empire Mess.
Character History
A poison-moth/spider-like Beast Warrior; this Beast Warrior has the ability to eat a special poisonous fruit (similar to real moths) and create a powder using this poison that will harm anyone it touches. It also has the ability of flight. During a battle with this Beast Warrior, Bun becomes poisoned trying to pursue it and is dumped by The Mazarass into the rapids of a rural area, where he drifts until he is rescued by a woman who sees him like her deceased son. Living where the poisonous fruit grows, she knows of an antidote to it and treats Bun while tending to his wounds. Finding out about the woman and the antidote, The Mazarass and Nefel try to gain it, but the Flashman prevent them before destroying the creature with Rolling Vulcan, then with Super Cosmo Flash from Flash King.
Personality
to be added
Modus and Arsenal
Notes
Portrayal
Behind the Scenes
References
Community content is available under
CC-BY-SA
unless otherwise noted.