Doctor Strange in The Multiverse o Madness - The Loop
Play Sound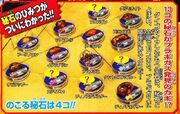 The Guardians' Secret Stones (ガーディアンズの秘石, Gādiansu no Hiseki) are a set of amber stones containing the remains of the Guardians (ガーディアンズ, Gādianzu), a group of thirteen lesser Zyudenryu who supported the Ten Great Zyudenryu in their fight against the Deboss Army.
They were all killed during the height of Deboss' attack on the dinosaurs by Great Land Devil Gadoma. Their deaths caused their leader, Zyudenryu Bragigas, to turn their physical form into the Secret Stones with the tears he had shed out of grief, and Bragigas, enraged by Deboss' tricks, used the forbidden Gigant Cannon to impale Gadoma and defeat Deboss. Unfortunately, Bragigas lost power and fell with Gadoma. Once Bragigas and Gadoma were sealed in what would later be Lake Mado, the 13 Lost Stones were then scattered all over the globe.
When all 13 were collected, they were used to retrieve Bragigas from the depths of Lake Mado. As thanks, Bragigas returned to Ian and Daigo their Stones.
The Guardians' powers are now being used by the Kyoryugers via their Zyudenchi, from #11 to #23.
Stones by Guardians
See Also
Energems- Power Rangers Dino Charge and Dino Supercharge counterpart