"You have summoned the power of your ancestors!"

―The Grand Shogun passing the Bullzord's power on to Jayden and Cody
The Grand Shogun was one of the old Shogun Rangers, descended from the Ancient Samurai Rangers and ancestors of the current team of Samurai Rangers. 300 years ago, the BullZord had rampaged along the countryside. Thus, he had entrusted the Guardians, friends of the Samurai to guard the BullZord with their very lives. He ordered that it remain sealed for all eternity. Little did he know that in the future, a young boy named Cody would have the ability to communicate with it.
When the BullZord was finally freed and utilized by Jayden Shiba roughly 3 centuries later, the Grand Shogun's apparition appeared before Jayden, and promised him that now that the BullZord was free, their power now belongs to him (and the new Rangers). Thus the Grand Shogun and his Shogun Ranger compatriots' powers are transferred onto the new Samurai Rangers via the Shogun Disk.


Red Shogun Ranger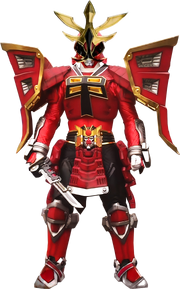 Arsenal
Zords
Notes
It can be assumed that the Grand Shogun was the first ever Red Samurai ranger and Chronologically the first Red ranger to ever exist, neither assumptions have been confirmed however.
Whether the Shogun form was the Grand Shogun's base form or a power-up was not revealed. However, it is clear that he identified more with the Shogun form.
The Grand Shogun is the first American-exclusive ranger to have his form chronologically become the Battlizer of an existing Ranger.
When The Grand Shogun appeared before Jayden and Cody, his voice was strikingly similar to Zordon's.
The Grand Shogun was part of the first few waves of toys for Samurai as the "Shogun Battlized Ranger", despite actually appearing in the series in the next season, Super Samurai. The suit was confirmed to appear in the show at The New York Toy Fair 2011 by a Bandai represenative
Appearances
See also
Community content is available under
CC-BY-SA
unless otherwise noted.