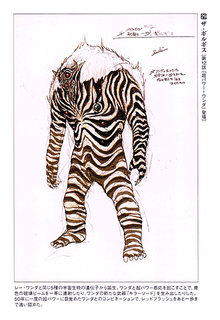 The Gilgiss (ザ・ギルギス Za Girugisu) is a Beast Warrior creation of the Reconstructive Experiment Empire Mess.
Character History
A Beast Warrior with attributes similar to Leh Wanda, notably in it's black and white form. Used in tandem with Wanda's electric attacks, the duo worked together to torment the Flashman during a special day every 50 years when the five creatures used for Wanda's construction are in perfect sync, allowing for the Mess minion to have the equivalent of "super power". Even as the Flashman try to eliminate the Beast Warrior with the Rolling Vulcan, Wanda protects his ally to allow for it to continue to assist him. Even after finding out the truth of his construction, Wanda continued to fight on with The Gilgiss until the day of the syncing ended, allowing for the Flashman to eliminate the Beast Warrior with their weapon, then as a giant with Flash King.
Personality
to be added
Modus and Arsenal
Notes
Portrayal
Behind the Scenes
See also
References
Community content is available under
CC-BY-SA
unless otherwise noted.