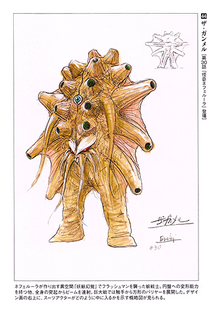 The Ganmel (ザ・ガンメル Za Ganmeru) is a coral/bat-like Beast Warrior creation of the Reconstructive Experiment Empire Mess.
Character History
A coral/bat-like Beast Warrior with the face similar to that of a bat. It assisted Leh Näfel after being upgraded by Great Doctor Lie Köpflen into Nefelura in a scheme where she trapped the Flashman within an illusion to make them feel the horror of the day they were abducted. During the illusion, it took the image of a UFO in order to further frighten the Flashman until Doctor Tokimura and his wife Setsuko worked with Mag to inspire the Flashman to keep fighting and escape from Nefelura's illusions. The Beast Warrior is destroyed by Rolling Vulcan, then by Flash King's Super Cosmo Flash.
Personality
to be added
Modus and Arsenal
Notes
Portrayal
Behind the Scenes
See also
References
Community content is available under
CC-BY-SA
unless otherwise noted.