description to be added
Character History
A Nezire who could lay eggs and power them up to grow quickly. Killed by the combined efforts of Mega Red, Mega Black, Mega Blue, Mega Pink and Mega Silver. Her larvae, however, hatched and fused together to become Soldier ShiroariNezire. This Nezire was stronger that his mother, and could turn into a swarm of termites to eat through anything (including the Megarangers weapons) and/or avoid the Megaranger's attacks. Killed by Super Galaxy Mega with a combination of using the Booster Rifle set on freezing gas and then using Super Galaxy Knuckle.
Personality
to be added
Modus and Arsenal
Notes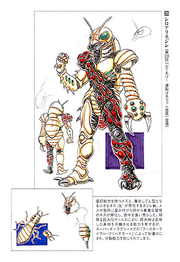 Termite Nezire are so far to be the only monster that's a mother and a son.
Portrayal
Conception
Behind the Scenes
See Also
References
Community content is available under
CC-BY-SA
unless otherwise noted.