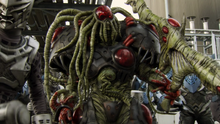 Tentacus is an octopus-themed monster who was the second monster sent to Earth by Prince Vekar to battle the Super Mega Rangers.
History
He was sent immediately after the destruction of Headridge. He was the first of Vekar's field commanders to be enlarged by Levira's Maximizer and destroyed by the Super Megaforce Rangers' new Zords after the three Bruisers that were grown along with him were defeated.

TV STORY-Super Megaforce
Powers and Abilities
Weapon Transformation: Tentacus can transform any part of his body into weapons, as seen when he turned his left arm into a bladed blaster.
Arsenal
Tentacle Blaster: Tentacus uses a large tentacle-themed blaster as his main weapon that can fire missiles.
Left Arm Blade Blaster: Tentacus can transform his left arm into a blade-like blaster for combat but what it could do is unknown since the Rangers destroyed him before he could use it.
Notes
Portrayal
Behind the Scenes
Despite being the second Armada monster sent on Earth, Tentacus is the first monster to be grown after he is defeated, as Headridge wasn't grown.
See Also
References