"Don't act foolish! I have already acted."

―Tenkaonian Raja Namunan's first words
Tenkaonian Raja Namunan (テンカオ星人ラジャ・ナムナン, Tenkao Seijin Raja Namunan, 35) was a monster in Tokusou Sentai Dekaranger.
Character History
He killed Detective Chou's daughter 13 years ago. He was also charged on 103 counts of burglary with his Tenkao partners, Goren Nashi and Yam Tomukun. He piloted the second version of Heavy Industrial Machine Knight Chaser. He was deleted by DekaWing Robo.
Personality
to be added
Modus and Arsenal
Notes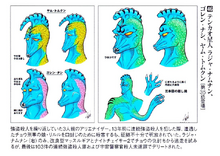 Namunan's armor was adapted as the S.W.A.T. Mode-based armor for Thresher in Power Rangers: S.P.D.
Reason for being unused in Power Rangers S.P.D. is having to do with his footage being too violent and he commited murder.
Portrayal
References
Behind the Scenes
External Links
Community content is available under
CC-BY-SA
unless otherwise noted.