Doctor Strange in The Multiverse o Madness - The Loop
Play Sound
Telosi is from the Planet 0117 of the A47 Galaxy. He's the brother of Xev, after an encounter with the Morphinaut he cycled through multiple Green Ranger powers across time and space, and eventually became the Green Squadron Ranger of the Squadron Rangers. His powers were later used by the Super Mega Rangers as part of the New Powers that Gosei gave the new team.
History
Becoming a Ranger
During the evacuation of Planet 0117, Telosi became worried of his brother Xev, who was at the Masterforge Namize and wasn't calling back. After hearing from Rhian that something happened at Namize and there was footage that showed what happened, Telosi agreed to go to the Frontier Lab and watch the video. They all saw in the footage how an army of demon like creatures invaded Namize and questioned why the Morphin Masters would leave half of those people to die by shutting down the Namize Arch, with Telosi saying that they left Xev. Telosi and his friends later raced to the Master Arch, which was ready for evacuation, but stopped to rescue a figure that crashed onto the ground and was later identified as the Morphinaut.

COMIC STORY- Power Rangers Universe Issue 1
Unable to return to the Master Arch and being trapped in the middle of an invasion of their planet led by the same creatures that attacked Namize, Telosi found out that one of the creatures that were attacking them was Xev, who was saved from his new monster form by the Morphin Energy of the Morphinaut. Telosi later received an overflow of the Morphinaut's Morphin Energy and was turned into the Green Samurai Ranger along with his friends and brother who also morphed into other Rangers. In their new forms, the Morphinaut told the team of Rangers to go to Ori's Proto-Arch and destroy it after using it while Dark Specter unleashed more of his forces.

COMIC STORY- Power Rangers Universe Issue 2
Super Megaforce
Telosi is seen fighting alongside Aleia while Rhian teamed up with Casey Rhodes in the final battle against the Armada.
Family
Mother
Xev - Brother
Forms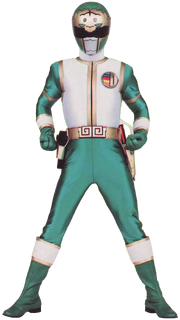 Arsenal
Unnamed Chakram Weapon
Unnamed Polearm Weapon
Special attacks
Spacial Sonic Wave: Stabbing his polearm into the ground, Telosi creates a wave of green energy across the ground.
Arsenal
Arsenal
While Telosi was in S.P.D. B-Squad Green Ranger, he changed the Delta Max Striker into the Sword of Power that quickly cycled through other Green Ranger forms during his attack, including:
Ranger Operator Series Green
Dino Charge Green Ranger
Zeo Ranger IV - Green
Green Ranger
Green Samurai Ranger
Green Mystic Ranger
Legendary Ranger Key

The Green Squadron Ranger Key is Telosi's personal Ranger Key. Despite the unknown fate of the Squadron Rangers, Gosei seems to possess their powers via the Legendary Ranger Keys. This key is mainly used by Jake Holling (Super Megaforce Green) who uses it to fight as the Green Squadron Ranger.
When the Super Mega Rangers became the Squadron Rangers while fighting against X Borgs while Troy was absent. TV STORY-Earth Fights Back
When the Super Mega Rangers became the Squadron Rangers while fighting Sirjinkor. TV STORY-The Perfect Storm
Notes
Appearances
See Also