I like the new zords and I am wondering why they chose the name Blaze Megazord. I am looking forward to Super Ninja Steel next year for answers, assuming that the new season starts in 2018.
Ranger-X, gamer and strategist 04:14, October 30, 2017 (UTC)
I think it's a safe assumption that the name was picked because of its fire motif and bright orange coloring (usually referred to as **Blaze** Orange). Super Ninja Steel is supposed to be starting in early 2018, likely February if they follow the trend of previous Neo-Saban series. --King Starscream (talk) 16:27, November 30, 2017 (UTC)
Zord Names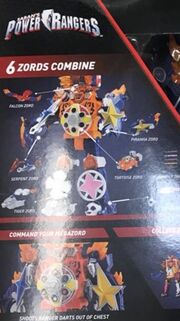 Think we should add the names of the Zords based on this pic? ChipmunkRaccoon (talk) 17:35, November 20, 2017 (UTC)
I'd think so, but there is a minor issue with it. I have it in-hand now. The names are Falcon (Red), Serpent (Blue), Panda (Pink), Tiger (White), Pirahna (Gold), and Tortoise (Yellow). However, the box does not specify if they should have Blaze in the name (Falcon Blaze Zord, Blaze Falcon Zord), if they should be the Super Ninja Steel Zords (Falcon Super Ninja Steel Zord, or some variation thereof), or even if they're just individually still treated as Ninja Steel Zords since there are no "doubles" from the first one. Until the show addresses them, I think we should wait and see. Edit: Forgot to sign. Also, funny thing, the picture that shows the chest cannon off (lower left) is actually a picture of the Gekiatsu Daioh toy. --King Starscream (talk) 15:53, November 30, 2017 (UTC)
Community content is available under
CC-BY-SA
unless otherwise noted.