The Susukodama (スス木霊, Soot Kodama) are a furry, ball-like soot settling in roof of the Rokumon Junk's interior, appearing whenever Dokoku Chimatsuri is infuriated enough for them to descend, annoyingly repeating people's words while giggling. Kodoma are spirits believed to live in certain trees, cutting down a tree housing these spirits is thought to bring misfortune.
One accompanies Dayu Usukawa in her wandering after it is tossed out of the Rokumon Junk and into the mortal realm, singing in imitation of her shamisen. After Dayu sacrifices herself, Dokoku crushes the Susukodama by stepping on it.
Notes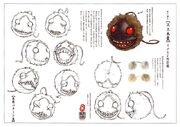 They are based on the susuwatari.
They are similar to the dryad of Greek myth.
See Also
Community content is available under
CC-BY-SA
unless otherwise noted.