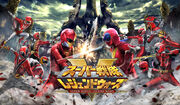 Super Sentai Legend Wars (スーパー戦隊レジェンドウォーズ, Sūpā Sentai Rejendou Ōzu) was an iOS/Android app game released to commemorate the 40th anniversary of the Super Sentai Series, uniting all Sentai Teams from the original Himitsu Sentai Gorenger to the incumbent Mashin Sentai Kiramager (with Uchu Sentai Kyuranger, Kaitou Sentai Lupinranger VS Keisatsu Sentai Patranger, and Kishiryu Sentai Ryusoulger updates). Shortly before the game's release, the website held a promotion that first 10000 pre-registered users would receive Zyuoh the World upon release. This game also makes the appearances of few Kamen Riders (from Ex-Aid to Zero-One) and Metal Heroes (Gavan Type-G, Shaider and Jiraiya).
The game was released the 5 September 2016, during Zyuohger airing period. The game closed its servers on 31 August 2020.
Super Sentai
SuperSkills
Characters
Super Sentai
Allies
Metal Heroes
Villains
References
Community content is available under
CC-BY-SA
unless otherwise noted.