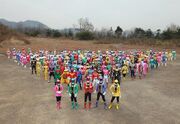 Super Sentai Hero Getter ~Now & Forever Ver.~ is a remix of Super Sentai Hero Getter which supplants Gokaiger as the main element of the song, and replaces the last two lines in the stanza with tribute lines to Gokaiger and the succeeding series Tokumei Sentai Go-Busters.

Romanized Lyrics
Original Japanese lyrics
Approximate translation into English

(SUPER SENTAI!)
Fly! Cross the eternal time
The ultimate warriors on Parade!

All five together Gorenger
JAKQ the trump cyborgs
Battle Fever, the dance of the world
Denziman come from the Denzi star
One plus two plus Sun Vulcan
Gymnastics with Goggle Five
Explosion (Explosion!) Dynaman
Bio particles, Bioman
Changeman from all legendary beasts
Flash! A supernova in space
Maskman with shining aura
Friends, why have you, Liveman?

Turborangers are high school students
Fiveman are teachers and siblings
Jetman are trendy
Zyuranger's dinosaur fantasy
Dairanger were victorious with Ki Power
The Pop ninjas Kakuranger
Ohrangers and the ancient super powers
Carrangers are driving safely
Young academic life of Megarangers
The Earth's warriors, Gingaman
GoGoFive to the rescue
Timerangers come from the future!

Gaoranger's howl like a hundred beasts
Blow the shinobi wind Hurricanegers
Go berserk with dinosaur (GUTS!) Abaranger
Dekarangers work at the space police department
Magirangers are a magical family
Looking for the precious, Boukengers
Gekirangers practice the Beast-fist
Engine's partner Go-Onger
Skinkenger, the serious samurais play with swords
Angels in cards, Goseiger
The flashy pirates Gokaiger
Special Mission Go-Busters!

I want to sing so I can better remember them!
Super Sentai Let's go!

In your (in your) heart (heart)
Get the whole treasure right away
Once again (once again) Forevermore (forevermore)
If you want to join us, then don't miss us
Oooh Explosion (Explosion)
SUPER (SUPER) SENTAI (Go Let's Go!)
Forever!
Community content is available under
CC-BY-SA
unless otherwise noted.