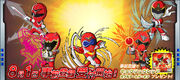 Super Sentai Battle Base is a mobile game inspired by TOEI's Super Sentai series, developed by Namco Bandai Games. The game became available for iPhone 4, 4s, 5 and Android phones during the run of Zyuden Sentai Kyoryuger. The official site also streams its full promo.
The game allows you to build your own secret base and upgrade it using customizable parts seen on previous Super Sentai shows. In this base, you can form your own 5-man team choosing any of the warriors initially from Himitsu Sentai Gorenger to Zyuden Sentai Kyoryuger (subsequent Sentai shows would be included in updates), as well as use any mecha to fight giant monsters! Player vs player battle was also available until it is no longer available due to its upgrade into Super Sentai Battle Base DX.
As a bonus, new players who registers through this link will get KyoryuRed Gaburu Armed On as your first character once the game is launched on Summer 2013.
On September 2014, it was later upgraded into Super Sentai Battle Base DX, a 3D version of this game.