This article is about a/an arcade video game in the Super Sentai series.
Super Sentai Battle: Dice-O (スーパー戦隊バトル ダイスオー, Sūpā Sentai Batoru: Daisuō) is a combination arcade game and collectible card game featuring the characters of the Super Sentai Series. Like Bandai's previous Cardass video game Kamen Rider Battle: Ganbaride, the game is a tie in with TV Asahi and Toei Company's television series. Its promotion began with the promotion for the film Samurai Sentai Shinkenger vs. Go-onger Ginmaku Bang!! and it's tied directly into the 2010 Super Sentai television series Tensou Sentai Goseiger.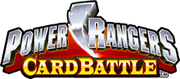 In Bandai Asia territories, it's known as Power Rangers Card Battle, and is based on Power Rangers Samurai instead of Megaforce, which was yet to air in Malaysia, where it was first released, at the time of the game's launch. This version only includes the Power Rangers teams, and is in English.[1]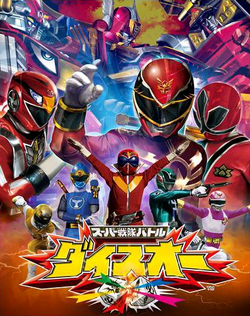 As of December, 2014, the game has been discontinued.
In January, 2018, a new Data Cardass game, Super Sentai Data Cardass: Kaitou Sentai Lupinranger VS Keisatsu Sentai Patranger was announced.
Gameplay
Before the game begins, the player must scan his or her cards; five Ranger cards, a Robo card (which can only be activated after two rounds have passed), and either a team attack card or an Extra Ranger card (both of which will activate only after a certain amount of rounds have passed). Next, the player chooses between three types of battles; a battle against a horde of Foot Soldiers (between the Bibi, Gormin, Buglers, Zorima, or Kuros), a villain leading a team of four Foot Soldiers or Ranger Key Clones (between Wolzard, Rio, Mele, Gedou Shinken Red, Dark Gosei Knight, Brajira, Basco, Enter, Dogold, or General Schwarz), or in a "Ranger Battle", against a team of Rangers (such as the Livemen or a team of all Black Rangers). "Ranger Battles" can also be fought with two players.
The game uses a roulette to determine how much attack a Ranger will have. The team with the highest attack total will win the round. The game continues until one team has run out of health. In certain cases, a player, after they win, will fight against a stronger team of Rangers available in the next expansion.
List of Rangers in Dice-O
Other
List of Mechas in Dice-O
Notes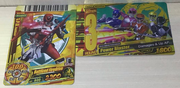 References