This article is about a/an summary of all the shows and films in the Super Sentai series.
---
"We are the Super Sentai! (我らスーパー戦隊!

Ware-ra Sūpā Sentai!

)"
―Roll call in unison.[src]
"You don't mess with the Super Sentai! (スーパー戦隊を舐めるなよ!

Sūpā Sentai wo nameru na yo!

)"
―Pre-fight catchphrase.[src]
"Connected by the baton of courage. These warriors continue to fight. Without them, surely peace on Earth would be destroyed. From the past, to the present, and even to the future. Let your souls burn bright, Super Sentai! (勇気のバトン繋ぎ。戦い続ける戦士。地球に君たちいなぎゃ、平和は滅びただろう。昔今未来まで。魂燃やせ、スーパー戦隊!

Yūki no baton tsunagi. Tatakai tsuzukeru senshi. Chikyū ni kimi-tachi i nagya, heiwa wa horobita darō. Mukashi ima mirai made. Tamashī moyase, Sūpā Sentai!

)"
―Super Sentai in a nutshell.[src]
The Super Sentai Series (スーパー戦隊シリーズ, Sūpā Sentai Shirīzu) is the name given to the long running Japanese "superhero team" genre of shows produced by Toei and Bandai and aired by TV Asahi, that is used as the basis for Power Rangers. ("Super" refers to their use of mecha, and "Sentai" is the Japanese word for "task force" or, literally, "fighting squadron" and was also a term used for Japanese squadrons in World War II.) The shows are of the ' "tokusatsu" genre, featuring a variety of live action characters and colorful special effects, and are aimed mainly at families. This series is one of the most prominent tokusatsu productions in Japan, alongside the Ultra Series, the Kamen Rider Series, and the Metal Hero Series.
The first Sentai series, Himitsu Sentai Gorenger, in April 1975, was created by the late Shotaro Ishinomori, creator of Kamen Rider and Cyborg 009 in 1975. He did not create any further Sentai series after his second, J.A.K.Q. Dengekitai, was not received well. These two series were originally both just called Sentai and were not a part of the Super Sentai series until 1994 when Toei decided to include them with the series that followed.
Following J.A.K.Q., Toei chose to work with Marvel Comics to produce the live action adaptation of Spider-Man (1978), which included the first giant robot in a Toei Superhero show. This concept was used in Toei and Marvel's project Battle Fever J (1979) and was deemed the first Super Sentai Series. The following production of Denshi Sentai Denziman was the first production solely by Toei and written by "Saburo Yatsude".
The term Sentai is also occasionally used to describe shows with similar premises, such as Voltron, or even the magical girl team in Sailor Moon, as the creator Naoko Takeuchi deliberately used Sentai ideas.
In 2003, Sailor Moon was retold in a fashion somewhat similar to Sentai shows in the form of Pretty Guardian Sailor Moon. While not officially Sentai, some fans of the genre have accepted it as such of it.
The first ever Sentai to be adapted into Power Rangers was Kyōryū Sentai Zyuranger (1992), utilizing footage from all 50 episodes. (Saban tried to adapt the previous Sentai into a Power Rangers show, with Zyuranger to be adapted into a second season, but they were unable to get the rights to the Jetman footage, so they used just Zyuranger instead.) When the series enters their anniversary, they use special logos to commemorate them. So far, five of them used this to commemorate the series: The 25th anniversary logo is for Hyakujuu Sentai Gaoranger, the 30th for GoGo Sentai Boukenger, the 35th for Kaizoku Sentai Gokaiger, the 40th for Doubutsu Sentai Zyuohger, and the 45th for Kikai Sentai Zenkaiger.
From Gorenger in 1975 to the last episode of Zenkaiger, the franchise will have aired 2,260 episodes. Zyuohger is the 40th Anniversary Sentai. Within the season, Episode 29 of Zyuohger is the 2,000th Episode of the overall Sentai Series.
On April 6, 2020, several Sentai Series (from Himitsu Sentai Gorenger) is available to stream on the Toei Tokusatsu World Youtube channel. However, all Sentai series that were on the Toei Tokusatsu World Youtube channel are blocked on several countries due to the license.
Series overview
In every Super Sentai series, the fight between good and evil is illustrated, with the good side winning most of the time. The basic premise of the series is that a group of five (in some cases fewer, or more) people gain special powers (magical or technological), wear colored outfits, and use advanced weapons and martial arts skills to battle powerful beings from other planets and/or dimensions threatening to take over the Earth. In most of the episodes, after the team has beaten an army of evil creatures ("grunts") and the "monster of the week", they call for huge robotic vehicles/animals ("mechas") that can combine to form one giant robot to fight an enlarged version of the monster. Sentai series with the giant robot element are specifically known as Super Sentai. After each series ends or during the series, there are a number of TV and video specials feature a teaming up with previous Sentai.
Super Sentai has teamed up with its sister show Kamen Rider on occasion, with Samurai Sentai Shinkenger and Ressha Sentai ToQger having TV crossovers. This has become an annual event with the Super Hero Taisen film series, starting with Kamen Rider × Super Sentai: Super Hero Taisen
.

Distribution
Although the series originated in Japan, they were imported and dubbed in other languages for broadcast in several other countries.
Europe
Choudenshi Bioman, Choushinsei Flashman, Hikari Sentai Maskman, Choujuu Sentai Liveman, Kousoku Sentai Turboranger, Chikyuu Sentai Fiveman, and Choujin Sentai Jetman, were broadcast in France in the 1980s and early 1990s, with Maskman and Liveman marketed as Bioman 2 and Bioman 3, respectively. Additionally, Liveman, Turboranger, and Jetman were broadcast in Spain and Portugal. Denshi Sentai Denziman and Dai Sentai Goggle V were both broadcast in Italy. In addition, some episodes of Bioman were released on VHS in Greece.
Latin America
Choushinsei Flashman was broadcast in Ecuador on Ecuavisa, in Peru on Panamericana Televisión, in Mexico on Azteca 7 and it was broadcast several times through many years in Bolivia on RTP. The dub in Spanish was made by Everest Video, the same company which made the Portuguese dub and it was named, Comando Estelar Flashman, as in Brazil. In Peru, Choujuu Sentai Liveman was dubbed in Spanish on Panamericana Televisión and on Frecuencia Latina as Super Fuerza Liveman (Super Force Liveman) between 1992 and 1995 and it made a huge success. In Bolivia, the show was aired once on ATB Red Nacional and wasn't aired anymore. In Ecuador, was aired on Ecuavisa in the 90's and it enjoyed the same success as in Peru.
Brazil
In Brazil, the first Super Sentai series to air was Dengeki Sentai Changeman in 1988, on the now-defunct TV Manchete (in 1999, it was renamed as Rede TV!), and made a tremendous impact at the time, being considered a cult classic. Due to the success of Changeman, other series were imported, such as Choushinsei Flashman, Hikari Sentai Maskman and Dai Sentai Goggle V. In place of later series in the franchise, the yearly iterations of the Power Rangers were dubbed into Brazilian Portuguese due to a general lower interest in tokusatsu programming in Brazil, as well as financial and bureaucratic issues. According to Toshihiko Egashira, the former owner of Everest Video (the company that licensed several tokusatsu shows in Brazil such as Changeman, Flashman and Juspion), in the mid-1990s, Choujuu Sentai Liveman and Kousoku Sentai Turboranger were already licensed to be aired in Brazil. At that time, some merchandise and gadgets of the shows appeared. However, at this height, the tokusatsu genre in Brazil was already low and no television channel was interested to air the shows. So, these shows, like the other Super Sentai shows, were unaired in Brazil.
Southeast Asia
J.A.K.Q. Dengekitai and Himitsu Sentai Gorenger (retitled Star Rangers) were the first Sentai series to be shown in the Philippines. Just as in France and Brazil, it was Choudenshi Bioman (dubbed in English) and Hikari Sentai Maskman (the first Super Sentai series dubbed in Filipino by the IBC-13 network) that most fans are familiar with. They were broadcast in the Philippines in the 1980s, along with Kousoku Sentai Turboranger, Chikyuu Sentai Fiveman, Choujin Sentai Jetman and Dai Sentai Goggle V in the 1990's. Various Sentai series such as Fiveman and Choushinsei Flashman were also broadcast in Malaysia sometime in the 1990s dubbed into English. Almost all Super Sentai shows were broadcast in Thailand since the 1980s; there, most new shows were exclusively broadcast on Channel 9 a year late from its Japanese debut in the late 1980s to early 1990s until Power Rangers replaced Kyōryū Sentai Zyuranger in the mid 1990s. Since then, the series have appeared on various other channels.
United States
see Power Rangers
After Honolulu, Hawaii's KIKU-TV had success with Android Kikaider (called Kikaida) and Kamen Rider V3 in the 1970s, multiple Super Sentai shows, including Himitsu Sentai Gorenger and Battle Fever J, were brought to the Hawaiian market (all broadcast in Japanese with English subtitles by JN Productions). Gorenger was also broadcast on Japanese-language stations in Sacramento, San Francisco and Los Angeles, California in 1976–77. J.A.K.Q. Dengekitai was also broadcast in Los Angeles following Sentai Gorenger. In 1985, Marvel Comics produced a pilot for an American adaptation of a Super Sentai series, but the show was rejected by the major US TV networks. In 1986, Saban Productions produced a pilot for an American adaptation of Choudenshi Bioman. In 1987, Kagaku Sentai Dynaman was dubbed and aired as a parody on the USA Network television show Night Flight.
In 1993, Haim Saban produced the first installment of the Power Rangers franchise by dubbing the action sequences from 1992's Kyōryū Sentai Zyuranger and filming new footage with American actors for the story sequences. This trend has continued, with each successive Sentai show contributing the action sequences to the Power Rangers series the following year. In 2009, the Disney-owned production company was shut down in favor of re-broadcasting the original Mighty Morphin Power Rangers newly reversioned. On May 12, 2010, it was announced that Saban bought back the rights to the Power Rangers franchise and planned to premiere a new season based on Samurai Sentai Shinkenger on the Nickelodeon network. The series premiered on February 2011 as Power Rangers Samurai, and was the first season since Mighty Morphin that would use the same Sentai season for more than a year. While Tensou Sentai Goseiger and Kaizoku Sentai Gokaiger were also adapted, it was revealed that Tokumei Sentai Go-Busters would be skipped in favor of Zyuden Sentai Kyoryuger being adapted into Power Rangers Dino Charge. To compensate, Saban has decided to incorporate elements of the former into the latter, although it has not yet explained how. However, it was since been announced that Go-Busters was adapted for the 26th season of Power Rangers. The same occurred with Ressha Sentai ToQger being skipped in favor of Shuriken Sentai Ninninger being adapted into Power Rangers Ninja Steel. One villain from ToQger was adapted into Ninja Steel, very much like how a villain from Megaranger was used in Lost Galaxy. As seen with Go-Busters, a season being skippped does not entirely rule out an adaptation.
On July 25, 2014, it was announced that Shout! Factory (distributor of Saban Brands programming) would be releasing Kyoryu Sentai Zyuranger on DVD, marking the first Super Sentai series to be released in its original form. The set was released on February 17, 2015.[1] This proved successful enough that two more seasons are currently being released each year, the most current as of October 2017 being Megaranger. In 2018, Shout! Factory upped the number of seasons being released. Gingaman having been released in Janurary, GoGoV due in April, and in July Timeranger.
Republic of Korea
Super Sentai has also been broadcast in Republic of Korea, dubbed from Japanese to Korean, starting as early as Choushinsei Flashman, titled Earth Protector Flashman. Recently, Tooniverse (formerly Orion Cartoon Network), JEI-TV (Jaeneung Television), CHAMP TV/ANIONE TV (DAEWON BROADCASTING), and Cartoon Network Korea have broadcast the following series under these names:
South Korea also aired a original series as a sequel to Power Rangers Dino Force called Power Rangers Dino Force Brave (dubbed into Japanese as Zyuden Sentai Kyoryuger Brave). Due to the high Japanese content of Samurai Sentai Shinkenger, this season was skipped in place of Gaoranger (as Power Rangers Jungle Force). Shinkenger was still seen on Korean televisions in the Korean dubs of Kamen Rider Decade
and Gokaiger, due to their crossover
the series had with each one, and called Power Rangers Samurai Force and Power Rangers Blade Force respectively.
During the run of Power Rangers Captain Force, many of the Super Sentai shows before Abaranger kept their names with the following exceptions:
Productions
TV series
The following is a list of the 45 Super Sentai Series and their years of broadcast. Each Super Sentai series has its own unique values and motifs:

Unofficial
Hikonin Sentai Akibaranger aired in 2012 along with Go-Busters. Although produced by Toei, it is an "unofficial" parody installment in the Super Sentai Series, and has an anime motif. Unlike the other Sentai Series, which air Sunday mornings on TV Asahi, it ran Friday nights on BS Asahi and Tokyo MX, a block typically used for anime. It was aimed at older otaku rather than kids, as evident in the series tagline ("Good little kids shouldn't watch").
Hikonin Sentai Akibaranger Season Tsuu aired in 2013 along with Kyoryuger. It is the sequel series of Akibaranger, although in this show, many parts of the first season were rewritten.
The High School Heroes aired in 2021 along with Zenkaiger. Although produced by Toei, it is not explicitly stated to be an installment in the Super Sentai Series, but it does share many similarities and included kameos by AkaRanger. This series is the first production to feature a transgender ranger.
Extra Works
Super Sentai Versus Series Theater is a 2010 special event on TV Asahi. It is a compilation of the at the time 14 V-Cinema movies, usually split into two parts. Episodes were aired before episodes of Tensou Sentai Goseiger, and each episode features commentary from the Goseigers at the beginning and end.

Zyuden Sentai Kyoryuger Brave is a 2017 Japanese dub of the Korean show Power Rangers Dino Force Brave, a sequel to the Korean dub of Zyuden Sentai Kyoryuger. It is a 12 episode miniseries of 15-minute episodes. The finale features the cast of Doubutsu Sentai Zyuohger.

4 Week Continuous Special Super Sentai Strongest Battle!! is a 2019 miniseries aired between Kaitou Sentai Lupinranger VS Keisatsu Sentai Patranger and Kishiryu Sentai Ryusoulger. It features an oddball team of past Rangers competing in the Super Sentai Strongest Battle, a tournament of Ranger teams competing for a wish.
Theatrical releases
V-Cinema releases
Special DVDs
Web movies
Narikiri Movies
Drama CD
Super Action Sound

Super Sentai VS Sound Collection
Video works
Crossover videos
Other video works
TV specials
Fight! Our Heroes Daishugo

(May 15th, 1976)

Chibikko Matsuri! Heroes of Justice so Shutsusen

(July 31st, 1976)

TV Ninkisha Daishugo!!

(September 25th, 1976)

Immortal Sentai Hero Collection

(March 21st, 1995)

35 Great Hero Sentai Ikkyo Dai Kokai SP

(January 22nd, 2011)

Movie Release Commemoration Special

(June 9th, 2011)

SmaSTATION!!

(June 18th, 2011; featuring Super Sentai)
Ressha Sentai ToQger Vs. Kamen Rider Gaim Spring Vacation Combining Special (March 30th, 2014)
Shuriken Sentai Ninninger Vs. Kamen Rider Drive Spring Vacation One-Hour Combining Special (March 29th, 2015)
Spring Vacation Combining Hero Festival (March 27th, 2016)

Chou Super Hero Taisen: Movie Release Anniversary Special

(March 26th, 2017)

Sunday Ame Talk!

Super Sentai Favorite Performer (July 30th, 2017)
Guest appearances
Collaboration with sports events
Toei collaborated with J League for their Super Hero Time summer movies in 2013 and 2014.
Hero Shows
Performanced at the Tokyo Dome City attractions (former Korakuen Yuenchi) outdoor theater, Sky Theater, Theater G Rosso.
Outdoor Theater
January 1976 (Himitsu Sentai Gorenger) to April 9th 2000 (Mirai Sentai Timeranger)
Sky Theater
April 29th 2000 (Mirai Sentai Timeranger) to April 5th 2009 (Engine Sentai Go-Onger)
Theater G Rosso
April 25th 2009 (Samurai Sentai Shinkenger) to present
Other shows
Yoshimoto Shinkigeki
From February 2010, guest performances to the Yoshimoto Shinkigeki at Namba Gundoh Summer began. Super Sentai teams are represented by suit actors.
Games
LSI electronic games
Household console games
Karaoke Studio

- Featuring Maskman

SD Battle Big Sumo Heisei Hero Venue

AZITO 2

AZITO 3

Tokusatsu Action Adventure: Superhero Legend

Meccha! Taiko no Tatsujin DS: Great Adventure of the Seven Islands!

- Features Go-Onger
Video games
Chogokin SELECTIONS

Bakuryuu Sentai Abaranger (Pico)

Tokusou Sentai Dekaranger (Pico)

Mahou Sentai Magiranger: MagiMat de Dance & Battle

Album Soft GoGo Sentai Boukenger: Let's Learn Numbers & Shapes!

GoGo Sentai Boukenger DX

BoukenDriver

Let's Start! GoGo Vehicles Edition
GoGo Sentai Boukenger DX

BoukenDriver

Special Software Part 2: Combine! Super Daibouken Edition
GoGo Sentai Boukenger DX

BoukenDriver

Special Software Part 3: Arriving! Bouken Silver Edition

Physical Excercise Boukenger: Run! Shoot! Mission Start!!

Let's print out with a sticky note! Set Juken Sentai Gekiranger Niki-niki! Numbers & Shapes Challenge

Gekiwaza Mastering: The Path from Gekiranger to Super Gekiranger

Engine Sentai Go-Onger: Remember at Mach! AIUEO!!

Samurai Sentai Shinkenger Full Battle! Iza Mairu

Tensou Sentai Goseiger Super Battle Daishugo
I-Appli
Himitsu Sentai Gorenger

Super Sentai MIX
Social games
Pachinko
Pachislot
Card games
Plastic models
Albums
Super Sentai Full Sentai Theme Song Collection

TV Size! Super Sentai Theme Song Collection

35 Great Super Sentai Theme Song Collection

Super Sentai 35 Memorial Super Sentai Legend Song Best

Superhero Chronicle Super Sentai Theme Song & Insert Song Colelction

Toei Sentai Hero Theme Song & Insert Songbook

Toei Sentai Robo Battle Music Collection

Toei Sentai Hero Battle Music Collection
Stage & Musicals
Books
Children's Magazines
Shogakukan
Shogakukan's Graded Learning Magazines (1975-1977, 1980 -)
Televi-Kun (1976 first issue - January 1978, February 1980 -)
Tokuma Shoten
TV Land (May 197 -January 1978, February 1979-February 1997, with TVCM)
Akita Shoten
Adventure King

(1979-1983 April issue) →

TV Anime Magazine

(May 1983 issue - June 1984 issue)
Kodansha
TV Magazine

(February 1979 issue -, TVCM from 1993)
Friends (1979 -)
Fun Kindergarten (1979 -)

Tele Manga Heroes

(2008-2009, TV magazine extra number issue, with CM)
Related books
Super Collection

(TV series after Jetman)

Super Sentai Super Collection

(First edition released in 1990)

Super Sentai Super Collection 15 Sentai Special

(Released in 1993)

Sentai Hero Super Collection 20th Anniversary Special

(Released in 1995, from now on including Gorenger and J.A.K.Q.)

Sentai Hero Super Collection Revised Edition

(Released in 1998)

Super Sentai Super Collection

(Revision released in 2002)

30 Great Super Sentai Super Collection

(Released in 2007, with appendix DVD)

Kanzenzukan

(sister series of Super Collection, released in November during the TV series starting with Go-Onger)

Super Sentai 15th Anniversary Super Sentai Heroine Photo Album

Super Sentai Pictures: Teamwork of Justice in Thirty Years

(2 volumes; originally scheduled for 3, but the third volume was not released)

Super Sentai Great Collection

All Super Sentai Complete Super Encyclopedia

All Super Sentai Super Robo: Finishing Technique 100 Super Encyclopedia

Himitsu Sentai Gorenger Encyclopedia

Toei Super Sentai Encyclopedia Full Volume 2

Tokyo Dome City Superhero Show History

(first edition released in 2009, supplementary revision released in 2010)

Chogokin Tamashii

- 25 Years of Poppy & Bandai Toy Character History

The Chogokin

(first ediiton released in 1988, supplementary revision released in 1998)

Chogokin Chronicle

(Book & DVD)

Hobby Archive: Super Sentai Robo Toy

Glorious Super Sentai Series Complete Guide

)

Super Sentai Pia

(first edition released in 2011, supplementary revision released in 2015)

Super Sentai's Common Sense: Let's do this showy! Legend Sentai Edition

Super Sentai's Common Sense: Kyoryuger & Legend Sentai Edition
Manga
Novels
Smartphone applications
International Broadcast
Giant robots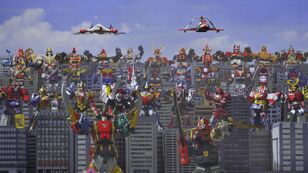 What differentiated the Super Sentai Series from other tokusatsu produced by Toei, Toho, and Tsuburaya was that the Super Sentai featured giant robots (often referred to in the series as Robos) piloted by the series' protagonists. Prior to the usage of giant robots in tokusatsu series, Toei had already had a hand in using them, having animated two of the archetypes for what would be used in Super Sentai: the titular Mazinger-Z, the first pilotable giant robot, and Getter Robo, the first combining giant robot. The Toei/Marvel Comics 1978 production of Spider-Man featured Spider-Man's giant robot Leopardon. Spider-Man was followed by Battle Fever J which also had a giant robot and began the tradition of the Super Sentai Series programs and the giant robots prominently featured in nearly every episode. Himitsu Sentai Gorenger in 1975—1977 and J.A.K.Q. Dengekitai in 1977 did not have giant robots, and were not considered Super Sentai until the broadcast of 1995's Chōriki Sentai Ohranger to promote it as the 20th anniversary series.
Since the introduction of the giant robot to Super Sentai, their complexity and number have varied throughout the Super Sentai Series' history. Battle Fever Robo in Battle Fever J was simply a giant robot, whereas DaiDenzin in Denshi Sentai Denziman transformed from a large vehicle into a robot. This was followed by the first combining, or "gattai", robot Sun Vulcan Robo in 1981's Taiyou Sentai Sun Vulcan. Over the course of broadcasting the series, additional robots were available to the heroes, beginning with two individual robots in 1986's Choushinsei Flashman with the most at five in 2008's Engine Sentai Go-onger. The number of individual mecha combining into a larger robot has also changed, from the two-piece Sun Vulcan Robo to the seven-piece Ultimate DaiZyujin in 1992's Kyōryū Sentai Zyuranger to the fourteen-piece Doubutsu Dai Gattai Wild Tousai Dodeka King in 2016's Zyuohger. The concept of multiple combinations was introduced in 2001's Hyakujuu Sentai Gaoranger with different arm, leg, and torso combinations producing twenty-two different robots that appeared in the series' broadcast.
All Super Sentai robots have been portrayed by suit actors, with miniature props used for their vehicular components. In recent years, CGI has been incorporated in the robot fight scenes for more complex transformation sequences, action maneuvers that greatly exceed the mobility of the robot suit (a good example being the Gokaigers' Gokai-Oh), or scenes that depict a larger battlefield than what is provided on stage.
Timeline
The Super Sentai timeline is a complicated one. Each series was originally intended to take place in its own continuity; in other words, they are the only Sentai to have existed prior to the first episode. Later efforts from Toei retcon this, mainly through crossover episodes and/or films. Some episodes may contain small indirect references to previous series, past teams are almost never overtly mentioned.
In popular culture
The Super Sentai series have been airing in Japan for the past forty years, and have been parodied as well as emulated in various ways throughout the world. Some of the anime and video games that reference or parody are:
Bleach (Karakura Bōeitai/Karakura Heroes in the dub)
Disgaea: Hour of Darkness (NijiRanger/Prism Rangers)
Dragon Ball Z (the Ginyu Force/Ginyū Tokusentai)
One Piece (Germa 66)
Excel Saga (Municipal Force Daitenzin/Shiritsu Sentai Daitenjin}
Negima!: Magister Negi Magi (Mahora Sentai Bakaranger; also featured in the television drama adaptation of Negima! titled MAGISTER NEGI MAGI: Mahou Sensei Negima!!)
Super Mario RPG: Legend of the Seven Stars (Axem Rangers/Kajioh Squadron Onoranger)
Tentai Senshi Sun Red
Mitsudomoe (Honki Sentai Gachiranger/Honki Sentai Gachirenjā)
There have also been direct parody series such as the Filipino movies Biokids, Kabayokids, and Super Ranger Kids, the Les Inconnus sketch Bioumen, and the Japanese series Special Duty Combat Unit Shinesman.
There have been many tribute series that pay homage to the long running franchise, starting with the Japanese fan film Aikoku Sentai Dai-Nippon created by what is now Gainax.
Toei has also parodied their work by using it in a series of short features on various spas and onsen around Japan as Bihada Sentai Sparanger. This series features tokusatsu and drama actors Takashi Hagino (Changéríon of Choukou Senshi Changéríon and Kamen Rider Ouja of Kamen Rider Ryuki) as SpaRed, Kento Handa (Kamen Rider Faiz of Kamen Rider 555) as SpaBlue (SPAブルー, SupaBurū), Kengo Ohkuchi (the trapped subway worker Kazushi Mizuno in Kamen Rider 555) as SpaGreen, Masashi Mikami (BoukenBlue in GoGo Sentai Boukenger) as SpaYellow, and Kohei Murakami (Kamen Rider Kaixa in Kamen Rider 555) as SpaMurasakiki, "purple" or "violet" in Japanese, a running joke would involve people referring to him as SpaPurple.
Since 2005's Sentai run, the Japanese musical group Kanjani Eight have created a series of performances at their concerts where they dress in different colored outfits and call themselves Kanjani Sentai Eight Ranger.
Notes
Since its debut in 1975, a new Sentai series, or an unofficial series, has started airing every year except 1978. However, the series that Super Sentai adopted the use of a mecha from (Spider-Man) aired in 1978, as well as a film that brought back the first two teams. (J.A.K.Q. Dengekitai vs. Gorenger)
The only years to begin airing more than one Sentai series, or an unofficial series, is 2012, which aired Tokumei Sentai Go-Busters and Hikonin Sentai Akibaranger, and 2013, which aired Zyuden Sentai Kyoryuger and Hikonin Sentai Akibaranger Season Tsuu.
Gallery
See Also
See Also
External links