Sukekonoian Mashu (スケコ星人マシュー, Sukeko Seijin Mashū, 46): A con-artist who marries 273 times under aliases and killed his wives by using Psycho Mushrooms to manipulate their feelings. He targets Umeko as his 274th wife and poses as a man named Hironobu. He uses the Psycho-Mushrooms to transform into a human male, but the effect only lasts for 60 minutes. However, a suspicious Sen-Chan uncovers his plan and when he confronts Mashu, Mashu's plan is foiled when he unknowingly brags about his evil intentions in front of her. Deleted by DekaPink S.W.A.T. Mode.
Personality
Modus and Arsenal
Notes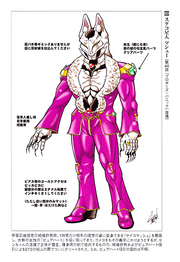 Portrayal
Behind the Scenes
References
External Links
See Also
Community content is available under
CC-BY-SA
unless otherwise noted.