Stroke of Fate is the fifteenth episode of Power Rangers Super Samurai, the second season of Power Rangers Samurai. This episode mark the first and only appearance of the Samurai Shark Gigazord, and the Last apparearance of Serrator.
Synopsis
When Serrator asks Deker to fulfill the final piece of his destructive plans, Antonio begs Deker to reconsider his role in the battle between humans and the Nighlok.
Cast
Power Discs
Notes
This episode was first shown in Latin America on 24th August 2012. It aired in Canada on 27th October 2012.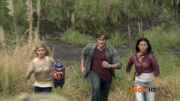 Bulk's hand/body motions as he picks up the gumballs and shouts "It's Chewing Time" is a spoof of the original morphing sequence for the Mighty Morphing Power Rangers: "It's Morphin Time". There's even a close head shot.
See Also