For the character from HyperForce, see Spencer (HyperForce).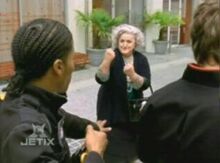 Spencer is the Hartfords' butler. He has a close friendship with Mack, and gives all the Rangers advice. He makes very funny jokes, and sometimes helps in battle, as in the role of a decoy or mobilizer of Zords. Originally skeptical of the Corona's existence or powers. Despite Spencer's demeanor of being a phlegmatic, persnickety English butler, he appears in disguises incongruous therewith, including the role of a man in distress and that of a woman who is undecided as to whether or not she will marry the god Loki.
Spencer is almost never seen without a feather duster or several glasses of lemonade.
See Also