"Lady Grandiene is pouring all her power into both of the Behemoths. That means that she is preparing to deliver the final blow to humanity!"
―Spell-Master Pierre after seeing the destruction of Max Victory Robo.[src]
"Goodbye!"
―Spell-Master Pierre's final words before his death.[src]
Spell-Master Pierre (呪士 ピエール, Jushi Piēru) was a fly-themed sorcerer that served as the butler to the Saima Family as well as the primary caretaker to Drop, the youngest of the Saima siblings before his transformation into Dragon Dark King Salamandes.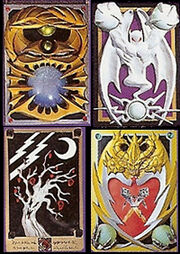 History
Using the Saima cards provided by his masters, Pierre is able to summon Saima Beasts from the dark world and later revive them as giants using either the Revive cards or the much rarer Golem cards.
Spell-Master Pierre stands on a rooftop and watches the destruction of Grand Liner, Victory Mars and Max Victory Robo and rejoices that humanity's end is near. The next day, he returns to watch Salamandes and Zylpheeza destroy humanity but Max Victory Robo Sigma Project arrives and destroys them. Their combined explosion sends Pierre flying back into a shopfront as Grand Witch Grandiene flies into space and explodes due to being exposed to Plus Energy.

TV STORY-Mirai Sentai Timeranger vs GoGoV
Though assumed dead, it is revealed that Spell-Master survived in the form of a small fly but is able to return to nomal size thanks to the explosion of Nova. With the Saima Family all dead, Pierre teams up with the Londerz Family a few months later to get revenge on the Super Sentai for his and his master's defeats. Using his magic, which has remained despite the end of Minus Energy, Pierre makes the Londerz Family leadership and a few prisoners immune to the Timerangers' weapons but the GoGoFive return and easily defeat them due to their different weapons. They scare off the Londerz Family leadership which angers Pierre who is left with just the final prisoner; Killer Boxer Boribaru. Despite being angry at this betrayal, Pierre uses a forbidden spell to fuse with Boribaru to form a mindless creature named BoriPierre (ボリピエール, Boripiēru). which instantly grows. Whilst the GoGoFive look on, the Timerangers form TimeRobo Alpha and Time Shadow Battle Mode but both are no match against BoriPierre. Forming TimeRobo Shadow Alpha, they perform the Blizzard Slash but BoriPierre blocks it and wipes it out with a devastating lightning blast. Fortunately, the GoGoV are able to summon Victory Robo through the gem on TimeRobo's chest while TimeFire summons the V-Rex with Victory Robo's various ladder attacks getting the upper-hand. However, BoriPierre immediately blasts them down but Victory Robo and TimeRobo team-up and gain the upper-hand with the Braver Sword and Time-Space Sword before igniting the latter's sword on fire with the Victory Prominence attack. Having transferred their rescue spirit over to the Timerangers, they waste no time with TimeRobo Alpha and the V-Rex teaming up to form Riding Time Robo which is able to defeat BoriPierre for good with the Pressure Prominence attack. Boribaru is contained instantly whereas Spell-Master Pierre's spirit is ejected and flies off.

TV STORY-Mirai Sentai Timeranger vs GoGoV
Personality
to be added
Forms
Powers and Abilities
Powers
Minus Energy-Spells-Master Pierre was extremely skilled at using Minus Energy to cast spells for various effects.

Weapon Immunity-Spell-Master Pierre was able to make the Londerz Family immune to the Timeranger's weapons. Given their later defeats, this wore off after his death.
Fusion-With the chant "Oh evil spirits! Grant us the final power!", Spell-Master Pierre was able to merge with Boribaru to form the mindless Bon-Pierre.
Abilities
Expert Strategist-Spell-Master Pierre was excellent at planning new ways to attack and try to defeat the GoGoV.
Weaknesses
to be added
Arsenal
Cane-Spell-Master Pierre's weapon was a large blue walking cane useful for battering his enemies with.

Energy Blasts-Spell-Master Pierre was able to fire a white energy blast from the base of his cane able to take down all five GoGoV with one hit.

Spell Cards-Spell-Master Pierre had a variety of spell and monster growth cards for him and his masters for use for their purposes.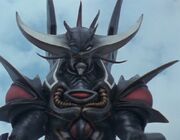 Powers and Abilities
Powers
Enlargement-BoriPierre enlarged instantly after his creation.
Energy Blast-BoriPierre could charge purple energy into his right hand to fire a devastating energy blast capable take down Victory Robo with one hit.
Abilities
Strength-BoriPierre was able to fight and defeat TimeRobo Alpha and Time Shadow Battle Mode as well as block the Blizzard Slash with his sword.
Durability-BoriPierre was struck by the Screw Spin Ladder and Windmill Ladder but recovered quickly.
Weaknesses
to be added
Arsenal
Daggers-BoriPierre wielded two massive daggers similar to the latter Tire Org's in battle.

Finisher Blocking-BoriPierre was able to block TimeRobo Shadow Alpha's Blizzard slash with his blades.
Lightning Blast-BoriPierre's strongest attack where he fires a devastating green lightning beam from his hand strong enough to tears apart TimeRobo Shadow Alpha and take both TimeRobo Alpha and the Time Shadow down with one hit.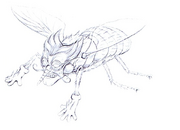 Behind the Scenes
Portrayal
Design
Pierre's motifs are that of a butler and a housefly.
Concept Art
Etymology
to be added
Notes
to be added
Appearances
to be added
See Also
References