Cobra Kai Season 4 - The Loop
Play Sound
Space.18: Emergency Dispatch! Space Hero! (緊急出動!スペースヒーロー!, Kinkyū Shutsudō! Supēsu Hīrō!) is the eighteenth episode of Uchu Sentai Kyuranger. It features a team-up with Gavan Type-G and the Dekarangers and the debut of 03*07*10 RyuTeiOh.
Synopsis
Madakko has stolen the Rashinban Kyutama that the Kyurangers are using to find the Argo! The Kyurangers chase after Madakko but she escapes through a black hole in space! It is said that 99% of those who enter a black hole do not return. However, in order to retrieve the Rashinban Kyutama, they have no choice but to follow Madakko. Lucky shows no hesitation when he plunges in the black hole himself, but who he meets on the other side is...?!
Plot
to be added
Cast
Guest Cast
Suit Actors
Errors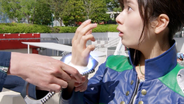 When Sen snaps D-Wappers onto Hammie, they are visibly too big for her hands. This is likely due to the props originally being made for Alienizers, portrayed by suit actors in thick rubber suits. As such, this is likely the reason why a force field-like visual effect connects Hammie's wrists to the D-Wappers: the filmmakers recognized the error as well.
Notes
As part of Super Hero Time, this episode aired alongside Kamen Rider Ex-Aid episode 35, Rescue the Partner!.
Viewership: 3.3%
Kyurangers featured in closing credits
RyuTeiOh Combinations:
Lucky Kyutama Luck Test
Kyulette Team: N/A
This episode is a tie-in with Space Squad.
This episode proves that Kyuranger takes place in a separate continuity from the rest of the Super Sentai Series.

This makes Uchu Sentai Kyuranger the first Super Sentai Series to be confirmed as taking place in its own universe and, by extension, go by the VS World theory.
Though Madakko was destroyed in the mainstream Super Sentai universe without a chance to return to the Kyuranger universe even if she regenerated herself, somehow in the following episode a fragment of her ends up in the hands of Scorpio who revives her in the Kyuranger universe.

Stinger, Balance, Raptor, and Spada don't appear transformed in this episode.
Houji Tomasu, Marika Reimon and Tekkan Aira have a cameo in this episode, transformed in their respective Dekaranger identities, piloting the Tokusou Gattai DekaWing Robo with Sen-Chan and Umeko to keep the Black Hole open with Shou, Garu and Hammie in RyuTeiOh.
The cold opening of this episode is reminiscent of Nero's entrance in Star Trek.

Incidentally, both stories involve elements from their respective primary and alternate realities.

This is the first time since Magiranger vs Dekaranger that Hideaki Kusaka is not the suit actor for Doggie Kruger, likely due to him interacting with Shou Ronpo (Hideaki's role in Kyuranger).[1]
Final appearance of DekaMachine Patrol Striker.
DVD/Blu-ray releases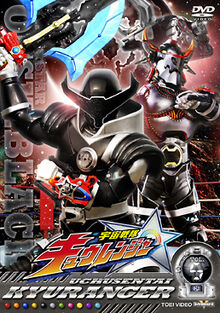 Uchu Sentai Kyuranger Volume 5 features episodes 17-20: Space.17: Lighting the Dome of Darkness!, Space.18: Emergency Dispatch! Space Hero!, Space.19: The Elf of Forest Planet Keel and Space.20: Stinger VS Scorpio.

Blu-ray Collection 2 comes with 12 episodes.
External links