Space.18: Emergency Dispatch! Space Hero! (緊急出動!スペースヒーロー!, Kinkyū Shutsudō! Supēsu Hīrō!) is the eighteenth episode of Uchu Sentai Kyuranger. It features a team-up with Gavan Type-G and the Dekarangers and the debut of 03*07*10 RyuTeiOh.
Synopsis
Madakko has stolen the Rashinban Kyutama that the Kyurangers are using to find the Argo! The Kyurangers chase after Madakko but she escapes through a black hole in space! It is said that 99% of those who enter a black hole do not return. However, in order to retrieve the Rashinban Kyutama, they have no choice but to follow Madakko. Lucky shows no hesitation when he plunges in the black hole himself, but who he meets on the other side is...?!
Plot
to be added
Cast
Guest Cast
Suit Actors
Errors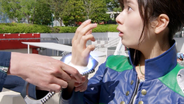 When Sen snaps D-Wappers onto Hammie, they are visibly too big for her hands.
Notes
As part of Super Hero Time, this episode aired alongside Kamen Rider Ex-Aid episode 35, Rescue the Partner!.
Viewership: 3.3%
Kyurangers featured in closing credits
RyuTeiOh Combinations:
Lucky Kyutama Luck Test
Kyulette Team: N/A
This episode is a tie-in with Space Squad.
This episode proves that Kyuranger takes place in a separate continuity from the rest of the Super Sentai Series.
Stinger, Balance, Raptor, and Spada do not appear transformed in this episode.
Houji Tomasu, Marika Reimon, and Tekkan Aira have a cameo in this episode, transformed in their respective Dekaranger identities, piloting the Tokusou Gattai DekaWing Robo with Sen-Chan and Umeko to keep the Black Hole open with Shou, Garu, and Hammie in RyuTeiOh.
Final appearance of the DekaMachine Patrol Striker.
DVD/Blu-ray releases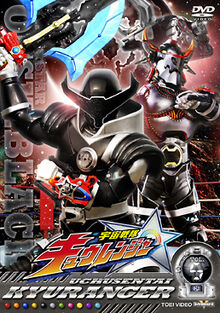 Uchu Sentai Kyuranger Volume 5 features episodes 17-20: Space.17: Lighting the Dome of Darkness!, Space.18: Emergency Dispatch! Space Hero!, Space.19: The Elf of Forest Planet Keel and Space.20: Stinger VS Scorpio.

Blu-ray Collection 2 comes with 12 episodes.
External links
References

List of Uchu Sentai Kyuranger Episodes
Episodes 1-10
Space.1: The Super Stars of Space • Space.2: Let's Go! Phantom Thief BN Team! • Space.3: The Man from the Desert Star • Space.4: Dreamy Android • Space.5: 9 Ultimate Saviors • Space.6: Flap! Dancing Star • Space.7: Take Back the Birthday! • Space.8: Secret of Commander Shou Ronpo • Space.9: Burn! Dragon Master • Space.10: A Small Giant, Big Star!
Episodes 11-20
Space.11: Three Kyutama to Save The Universe • Space.12: 11 Ultimate All-Stars • Space.13: Stinger's Challenge To His Brother! • Space.14: Exciting! Space Dragon Palace Castle! • Space.15: Savior of the Water Planet Vela • Space.16: Stinger's Reunion with His Brother • Space.17: Lighting the Dome of Darkness! • Space.18: Emergency Dispatch! Space Hero! • Space.19: The Elf of Forest Planet Keel • Space.20: Stinger VS Scorpio
Episodes 21-30
Space.21: Farewell Scorpio! The Day The Argo Revives! • Space.22: True Identity of the Legendary Savior • Space.23: Become My Shield! • Space.24: I Will Be A Shield to Fight! • Space.25: Planet Toki, the Boy's Determination! • Space.26: Warrior of Darkness, Hebitsukai Metal • Space.27: Indaver Panic Within the Orion!? • Space.28: BN Thieves, Breakup... • Space.29: The Orion System's Strongest Warrior • Space.30: All Right! The Miraculous Kyutama
Episodes 31-40
Space.31: Naga's Great Recapture Strategy! • Space.32: Orion, Forever • Space.33: Launch! Battle Orion Ship • Space.34: Mysterious Masked Warrior, Appears • Space.35: The Secret of the Universe's No.1 Idol • Space.36: The Legend That Sleeps in Lucky's Homeworld • Space.37: Lucky's Reunion with His Father • Space.38: Shocking! 9 Continuous Dangers! • Space.39: The Great Adventure of Perseus • Space.40: Opening Event! Deathball of Hell
Episodes 41-48
Space.41: Infiltrate! Planet Southern Cross • Space.42: My Father? The Universe? Lucky's Resolution • Space.43: The Vow on the Holy Night, 'Alright, Lucky!' • Space.44: Don Armage's Identity • Space.45: Tsurugi's Life and Earth's Crisis • Space.46: Between Hope and Despair • Space.47: The Saviors' Promise • Space.Final: Echo in the Universe! Alright, Lucky
Movies & Specials
Movies:
Kamen Rider x Super Sentai: Chou Super Hero Taisen
• Uchu Sentai Kyuranger The Movie: The Geth Indaver's Counterattack • Uchu Sentai Kyuranger: Episode of Stinger • Uchu Sentai Kyuranger vs. Space Squad
• Lupinranger VS Patranger VS Kyuranger
Specials: Transformation Lessons ~Let's Star Change Together!~ (Shishi Red & Chameleon Green Chapter • Tenbin Gold & Hebitsukai Silver Chapter • Ookami Blue & Oushi Black Chapter • Washi Pink & Kajiki Yellow Chapter • Sasori Orange Chapter • Pegasus Shishi Red Chapter • Special Episode) • From Episode of Stinger, Uchu Sentai Kyuranger: High School Wars (1st Period: Morning Assembly • 2nd Period: Art Class • 3rd Period: Science Class • 4th Period: P.E. • 5th Period: Supplementary Exam)
View • Edit