Space.16: Stinger's Reunion with His Brother (スティンガー、兄との再会, Sutingā, Ani to no Saikai) is the sixteenth episode of Uchu Sentai Kyuranger. This episode features the debut of the Ushikai Kyutama, Scorpio's true monster face and the destruction of Champ, who is then sent for repairs to return five episodes later.
Synopsis
Stinger and Champ have been working together in order to track down his brother Scorpio. They encounter a Big Moraimarz with an alien inside with an attack much like a stinger. He is the Jark Matter Karo from the Scorpius System, Scorpio. Confronting the killer of Doctor Anton, Champ goes after Scorpio, and Stinger cannot help but notice that his brother has changed. Scorpio silently whispers to Stinger... "Sorry... I can't reveal anything at this time..."
Plot
to be added
Cast
Suit Actors
Errors
Notes
As part of Super Hero Time, this episode aired alongside Kamen Rider Ex-Aid episode 33, Company Reform!.
Viewership: 3.0%
KyurenOh Combinations:
Kyurangers featured in closing credits
Lucky Kyutama Luck Test

Hint: Fried egg
Color: Yellow

Even though Naga, Hammie, Raptor, & Spada transformed in this episode, it uses stock footage from the previous episode when they performed the Kyurenoh Meteor Break.
DVD/Blu-ray releases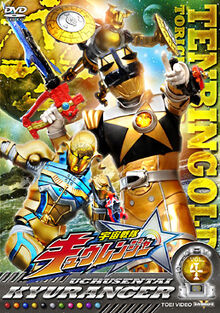 Uchu Sentai Kyuranger Volume 4 features episodes 13-16: Space.13: Stinger's Challenge To His Brother!, Space.14: Exciting! Space Dragon Palace Castle!, Space.15: Savior of the Water Planet Vela and Space.16: Stinger's Reunion with His Brother.

Blu-ray Collection 2 comes with 12 episodes.
External links
References
Community content is available under
CC-BY-SA
unless otherwise noted.