"Jungle Beasts, Spirits Unleashed!"
The Solar Morphers are sunglasses-like morphers that allow the Jungle Fury Power Rangers to morph into their Ranger forms. The Solar Morphers are also used for communication between the Rangers and RJ. They feature audio and visual capabilities. The lenses appear exactly as they do in their ranger forms' helmets.
Alternative to the Solar Morphers, the Super Mega Rangers used Legendary Ranger Keys provided by Gosei to assume the corresponding Ranger forms as a Legendary Ranger Mode.
Morphing Sequence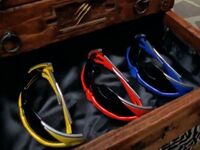 To transform, they put on the sunglasses, click the button on the right, and call out "Jungle Beasts, Spirits Unleashed!" to morph. In the forest, they make martial art moves for a few seconds and then the animal spirit appears from them and goes inside the animal spirit in order for the transformation to initiate.
Notes
These are the first set of morphers completely unique to Power Rangers, as these are glasses compared to the GekiChangers being gauntlets.
Due to being sunglasses, the Solar Morphers are the first and only morphers in the Power Rangers franchise that are not held in their user's hands or worn on their wrist when morphing.
See Also